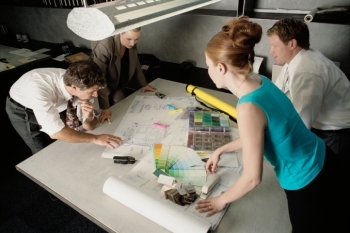 When hiring a professional website designer it can be tempting to approach them with only the most nebulous and general ideas of what you want on your website. Some of the most intriguing ideas we've heard from clients include
"I want it to be green…but I'm not sure what sort of green."
"It needs to sing to my customers…but not literally."
"My visitors should feel really fulfilled on my website."
"It needs to fit into the marketplace but be totally off the wall."
"I don't know what colours I like but they need to fit my company style."
While some website designers like to mock clients who make unusual or unclear requests, we've actually found that opening a dialogue with web design clients – even if it starts with something very arm-wavy and uncertain – is immensely beneficial to the entire design process and normally results in a final product that everyone is much happier with.

The best designs, however, and those which can be fast-tracked through development very rapidly (our current record from first concept to finished website is just two weeks!) are those which come with a clear and informative website design brief.
Here's the sort of thing our design team love to see when a client approaches them with a brief for a new project:
Your budget – while some people tend to be slightly cagey about this, especially in the early stages, it is actually better to be honest about this in order to obtain a realistic proposal and a sensible set of expectations from day one.
Your timeframe – does the site need to be done and out by next month, next quarter, next year? This will affect pricing, design complexity and development resourcing so it is important to know – and try to avoid just saying "as soon as possible;" as a deadline this is not helpful!
Information about your business – everything from the basics of what you do to your company age, number of employees, office culture, core values, unique selling points, potential customers and differences from your competitors.
The scale of your business – a website for an international conglomerate will have a very different look and feel to a local or family run business. It can also be helpful to define your business goals, whether these are as basic as "make more money" or as detailed as "open new offices in Switzerland by August 2014."
What you like and dislike about your current website (if you have one). If you don't have one, tell your designer why you want a website and what you want it to achieve for your business. How would you like the website to be contributing to your business in twelve months? What do you not want your website to do?
What you want your customers or clients to do on the site – do you want them to phone you up, fill in a form, buy a product or just go and tell their friends about you? These are called "visitor goals" and have a significant impact at the design phase.
What content do you want on the site? Will you provide the copywriting and images or is this needed as part of the website development project budget?
Who in your company is going to be updating the site, and how tech-savvy are they? This last item in particular will help decide on things like content management, maintenance agreements and general complexity.

The more freedom you are able to give a designer, the better and more unique your design will usually be, but if you don't give them some outline of what you want from the website you may find that you end up with something that looks great but falls into the unpleasant category of "not what I expected." This draws out the timescales on the project which can have a significant impact on your other marketing and promotional plans.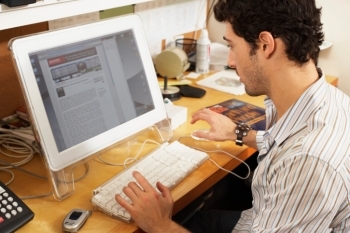 If you want to provide a brief for your website designer but aren't sure how (and aren't confident using the general guidelines above), consider hiring a marketing consultant to help you put a plan together.
Some marketing agencies (like ours!) can even do an end to end service by helping you to plan your site and corresponding marketing from the ground up, ensuring you get a highly effective website rather than a money sinkhole that just sits there on your domain and doesn't contribute anything to your business.
For more information on our comprehensive website design services (we're based in Kent, so if you're local we're always happy to have a chat in our offices about web design Kent) send us a message or give us a call on +44 (0) 1227 68 68 98 today.