ExtraDigital Office Locations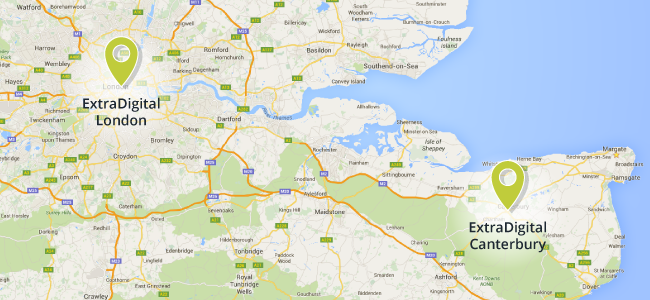 We have digital marketing and design offices across the south-east of England in the UK.
Head Office - Canterbury

Innovation Centre,
University Road, Canterbury, Kent,
CT2 7FG
There is plenty of parking in the car park behind the building.
Directions by Train/Bus
Canterbury West 1.5 miles
Canterbury East 2 miles - about 30 minutes walk or frequent University buses from city centre
Directions by Car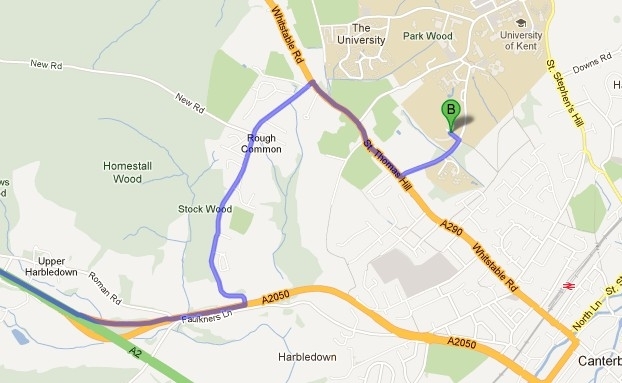 From the North/West
You can either carry along the Thanet Way (A299) until Whitstable and then take the A290 south to Canterbury, turning left into the University campus along University Road.
Or you take the A2 towards Canterbury, followed by the A2050 (signed Canterbury). The centre of Canterbury is best avoided, so take the first left (signed to Rough Common). Just after one mile at a T-junction turn right onto the Whitstable Road. Half a mile further on turn left onto University Road.
From the South/Canterbury
From the Canterbury ring road take the A290 north towards Whitstable. After 1 mile up the hill turn right onto University Road.
From University Road, take the second on the left (signed Innovation Centre). Please turn left into the car park (which is free). Or use the paying spaces on the right.
London Office - Old Street

ExtraDigital c/o WeWork,
41 Corsham Street,
London, N1 6DR
Postal Address and Admin Offices
ExtraDigital
Floor 5,
Amphenol Business Complex,
CANTERBURY
Kent, CT5 3SB
Company Registered Offices
2 The Hamels, Sturry,
CANTERBURY,
Kent, CT2 0BL
Request a Quote
For prices or more details call 01227 68 68 98 or complete the form below.