ExtraDigital have designed a new data recovery advice website. The site is aimed at offering information and advice to visitors about data recovery issues and how to get help when they lose precious data from their computers or other digital devices.
Recovery.co.uk is a professionally styled business website with an easy to navigate menu and a good number of information pages that offer key facts about guarding against and coping with data loss.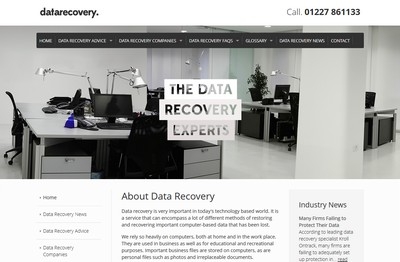 There are useful links on the website to a wide range of leading UK data recovery companies that can help people when they experience data loss.
The site has a news module that can be regularly updated with the latest information about data recovery. There is also an FAQs and a glossary section for people to find quick help and information about data loss.
The website contains many images and is a professional and smart looking business destination that will give people faith that they can use the site to get help with their data recovery issues. There is a quick contact form to enable people to get in touch with any queries they may have.
The data recovery website is SEO optimised so that it can easily be found online by people looking for help with data loss. It really is a great information repository for help with a wide range of data loss concerns.
To browse the new data recovery website visit www.recovery.co.uk and find easy to navigate information about a whole variety of data recovery issues that can help your business cope with devastating data loss.