ExtraDigital is the new name for Cornish WebServices. We are a high level internet marketing and web design agency offering businesses, government and third sector organisations a strategic online and offline presence to get them noticed in their sector.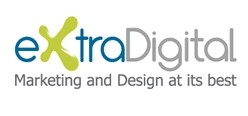 After more than ten years trading under the Cornish WebServices name we have rebranded to ExtraDigital as this new name better reflects our position in the digital media market - encompassing all of our web design, development and internet marketing skills.
ExtraDigital design accessible websites and offer cutting edge development work across all platforms including desktop, mobile and tablet devices. All our websites have in built SEO to ensure they are optimised and seen by the right people online.
Our new name also fits with our upgraded, multifunctional content management system - the ExtraCMS. We now have a suite of services that are all under the 'Extra' name, creating a cohesive and united brand that offers our clients that bit Extra.
We are a growing company that provide an individual service to each new client - with services ranging from web design, website maintenance or PPC marketing; to full branding, competitive SEO and social media marketing.
We will still provide the same quality service to our current clients and nothing will change in terms of this great service we have always offered.
For more information on our range of services browse our new ExtraDigital website or get in touch today on +44 (0) 1227 68 68 98.