ExtraDigital planned, executed and monitored the internet marketing activities for a major charity fulfilment provider. Late in 2012, the site content was changed completely and so the site needed complete re-optimisation to bring relevant traffic to the website, to increase leads gained through organic traffic.
Internet Marketing for B2B: Approach
We re-analysed the current content on site and carried out extensive keyword research and competitor analysis to identify the key areas that the site needed to rank for. Using our experience of onsite optimisation, we began making the changes necessary to realign the content to target a range of carefully selected and researched keywords.
Optimised existing new website copy to improve accessibility and conversion potential
Used high quality copywriting to create keyword specific landing pages, to target high converting long tail and short tail keywords and increase traffic to the site
Offsite SEO to increase the volume of quality inbound links, to improve domain authority. This included offsite article creation, content development, social media management, online PR and blogging to produce high value inbound links - to encourage natural backlinks from users
Improvements to meta data copy to improve search click through rates
The onsite and offsite SEO work improved content considerably and over time, there was a gradual increase in not only the volume of traffic from organic traffic, but the frequency of impressions (or appearances) in search engines.
SEO for B2B Charity fulfilment provider: Results
The graph below shows organic search traffic growth over time (exact figures are not shown to preserve client data confidentiality).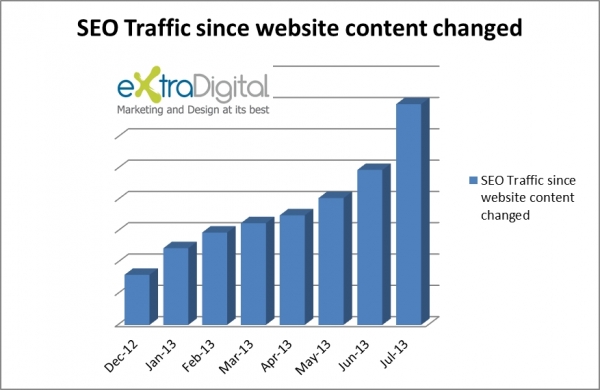 The site currently maintains levels of over 168% more relevant natural search traffic than it did in December 2012.
The graph below compares the frequency of the site appearing in search engines at the start of the project compared to present figures (exact figures are not shown to preserve client data confidentiality).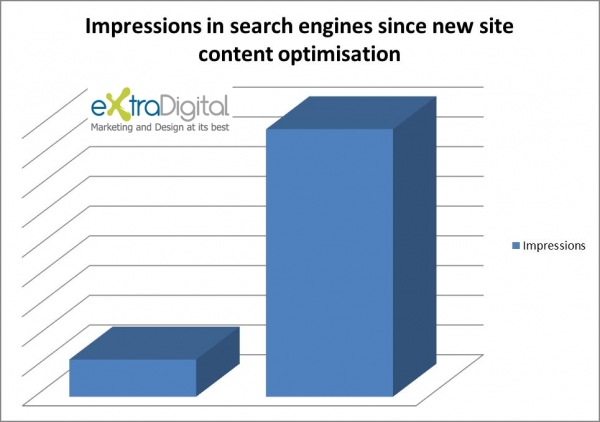 The site is averaging more than 7 times the amount of impressions since the new optimisation work began.
If you are a B2B organisation looking to increase the volume of relevant traffic and leads for your businesses, get in touch with ExtraDigital today to talk about your internet marketing needs and requirements. Call us today on +44 (0) 1227 68 68 98 or fill out a contact form with your needs and we will get straight back to you.