The Client
Ouh La La is a fine lingerie brand based in the UK, selling worldwide. ExtraDigital have been managing their paid search strategy since October 2020, growing the account along the way.
Google will be sunsetting Smart Shopping campaigns by September 2022. At ExtraDigital we have been gradually creating and optimising the new google shopping campaign, Performance Max, to minimize any dip in performance for clients when making the switch between the old and the new campaigns.
What is a Performance Max Campaign?
Performance Max is an automated campaign type within Google Ads, reminiscent of (but still slightly different than) a Smart campaign.
In the digital marketing industry, there has been a lot of chat around the new Pmax campaigns, with many wondering if Performance Max will be better than smart shopping and worried that accounts will see significant decreases in performance.
We started early testing with Performance Max to ensure our clients do not see long-term negative impacts, aiming to minimise the drop in performance when switching from Smart Shopping to Performance Max.
Ouh La La, and other clients, have benefited from our research and tests. We have set campaigns and several asset groups live – and have seen better results compared to smart shopping!
Background
The client has several different brands that they sell. In the old Smart Shopping account, we had separate campaigns for each brand.
In the new performance max campaign, we wanted to test 1 campaign with several asset groups (1 asset group for each brand) vs. 1 campaign for each brand. We wanted to understand what brought the best results – multiple campaigns or 1 campaign with many asset groups?
The Results
Campaign 1 – One brand
1st month: – 5 sales – 4.7 ROAS
2nd month: – 20 sales – 8.5 ROAS
3rd month: – 23 sales – 7.4 ROAS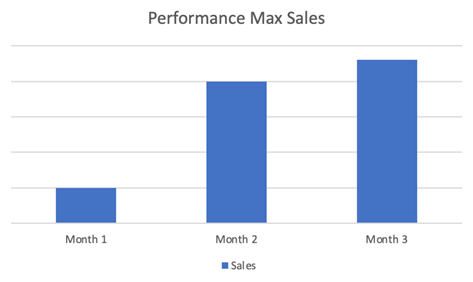 Campaign 2 – Several Brands
We initially ran several brands in this one campaign, however after seeing better performance from Campaign 1 with only one brand, we split them out.
1-2 Months: 4 Sales
First 2 weeks after splitting into separate campaigns – 11 sales
How did performance max compare to smart shopping?
Looking at month 3 compared to the last month we had only smart shopping running:
Pmax: 38 sales with 7.5 ROAS
Smart Shopping: 25 sales and 4.4 ROAS
It's safe to say Pmax is seeing better results than smart shopping - it made more sales with a much higher return on ad spend.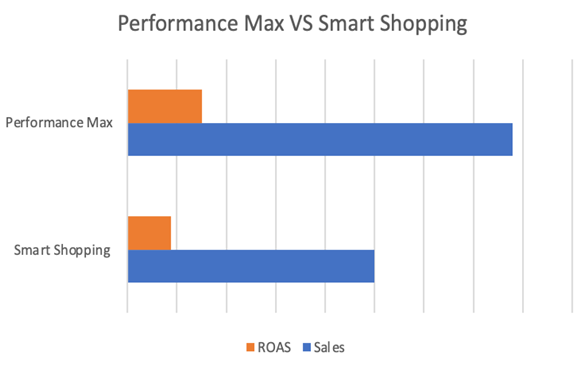 Time is up…
Google began automatically upgrading smart shopping campaigns to performance max in July 2022. If this is done without any optimisation, you are likely going to see a decrease in performance from your smart shopping campaign.
If you're looking for help with Performance Max campaigns, get in touch with ExtraDigital today!