Making your online shop a success comes down to the tools you have for the job and not just your ongoing marketing strategy.
Ensuring your eCommerce store is built well and functional for your needs is very important. ExtraDigital has built a large number of eCommerce stores on a variety of different eCommerce platforms, including Magento, WooCommerce, and of course Shopify.
Since 2022 Shopify has been gaining market share very rapidly - it is the fastest-growing e-commerce platform, for good reason. Multilingual is one of them. It is also easy to expand and integrates well with many 3rd party systems for payment, delivery or invoicing.
We've been designing, building and marketing Shopify Stores for many years - and the number of requests continues to grow as the platform has become more established.

Shopify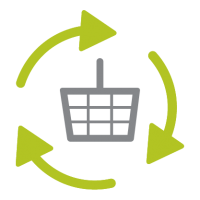 Shopify is a leading eCommerce platform or SaaS provider. There are currently over 5.6 million online Shopify stores which take in around $200 billion worth of sales. It has over 2 million active daily users.
Standard tools include…
Over 100 paid and free themes that can be customised
Multichannel selling and drop shipping
Ability to insert product images and product descriptions easily
Manage your inventory online
Organise products into categories for ease of use
Offer discounts on products easily
Create landing pages and blogs for marketing purposes
Accept payments from over 70 different countries
Allow customers to have their own login areas
Reporting structure allows you to filter your sales data by various factors to help you better understand your customer's behaviour
Can create multiple logins for various members of staff with various permission levels for security
What Shopify Offers
Shopify can offer a great deal more than people are led to believe. Features include…
The Downsides of Shopify
Like every eCommerce platform in the marketplace at the moment, even Shopify has its downsides. These are:

Is Shopify for Me?
If you are looking for a robust and flexible online eCommerce store that not just helps you manage your sales but also helps you manage your business then Shopify is for you.
It is SaaS - so you pay more as you use more - but is quick to get started. An experienced Shopify agency can help you customise templates and add in extra features - and do this in a way that helps with ongoing marketing.
A pretty-looking store is one thing - but does not make money. An effective sales channel is another thing - a source of sales revenue and profit. Setting up your Shopify store for effective marketing is arguably more important than agonising over the design specifics. Ensuring your Shopify partner agency has marketing experience is important.
At ExtraDigital we have helped Shopify owners grow their business through effective paid search advertising and ensure products are visible under Google Shopping or Products. More detail on this is on our Shopify PPC page.
Shopify with ExtraDigital
If you are looking for assistance in setting up your Shopify store the team here at ExtraDigital can help. We have the knowledge and experience of Shopify to get your custom eCommerce store set up without any fuss.
We also have lots of experience in marketing Shopify stores and lots of other eCommerce stores via the use of SEO, PPC, and even Social Media.
Contact us today on 01227 68 68 98 to learn more or tell us about your project below.