Making your online shop a success comes down to the tools you have for the job and not just your ongoing marketing strategy.
Ensuring your eCommerce store is built well and is functional for your needs is an absolute must. Here at ExtraDigital we have built a high number of eCommerce stores on a variety of different eCommerce platforms, including Magento, WooCommerce, and of course Shopify.
Whilst Magento and WooCommerce appear to be hard favourites for many currently a lot of people forget that there is the option of Shopify. Indeed, choosing the right one for your business is hard.
To help you realise the brilliance of Shopify we have compiled the following review of the eCommerce platform.
Naturally, you can learn more about the Magento and WooCommerce platform specifically in our other blog post 'Magento vs. WooCommerce – Which one is for you!'.

Shopify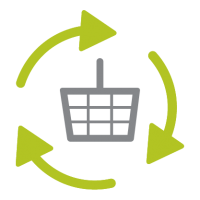 Shopify is a leading eCommerce platform provider. There are currently over 300,000 online Shopify stores which take in around $20 billion worth of sales. Standard tools include…
Ability to insert product images and product descriptions easily
Manage your inventory online
Organise products into categories for ease of use
Offer discounts on products easily
Create landing pages and blogs for marketing purposes
Accept payments from over 70 different countries
Allow customers to have their own login areas
Reporting structure allows for you to filter your sales data by various factors to help you better understand your customer's behaviour
Can create multiple logins for various members of staff with various permission levels for security
What Shopify can Offer
Shopify can offer a great deal more than people are lead to believe. Features include…
The Downsides of Shopify
Like every eCommerce platform in the marketplace at the moment, even Shopify has its downsides. These are:

Is Shopify for Me?
If you are looking for a robust and flexible online eCommerce store that not just helps you manage your sales but also helps you manage your business then Shopify is for you.
If you require custom features on your website then you might need to look at other eCommerce platforms like Magento. Whilst Shopify will allow you to customise your store, the Liquid code base can restrict your ability to find developers to work on it and to get the features that you want from it.
In terms of costs, there is the cost of the template (if you choose not to use a free one) and potentially the cost of plugins (if they aren't free) to give you all the features that you are looking for. On top of this there is the monthly service fee which starts at $29 but can go up to $299 a month depending on the amount you wish to pay per transaction, the number of logins you require, and whether you want features like 'Real Time Carrier Shipping' or 'Advanced Report Builders'.
A great option for you if you are considering using Shopify is its 14-day risk-free trial. This allows for you to see for yourself what the eCommerce platform can offer your business without spending any money with them.
Shopify with ExtraDigital
If you are looking for assistance in setting up your Shopify store the team here at ExtraDigital can help. We have the knowledge and experience of Shopify to get your custom eCommerce store set up without any fuss.
We also have lots of experience in marketing Shopify stores and lots of other eCommerce stores via the use of SEO, PPC, and even Social Media.
Contact us today on 01227 68 68 98 to learn more or tell us about your project below.