Whether you use voice search or not, marketers need to sit up and listen to recent noise and make a judgement – but we urge you to think long term.
We all know the love affair that is teenagers and their mobiles – who has time to type these days? It's predicted that over 55% of teenage smart phone users use voice search in some form showing signs that it may become ubiquitous in the next few years. Remember, for longevity of your brand, markets should also be thinking about the next generation of users and how they interact with technology to get your message to right people at the right time using the right medium.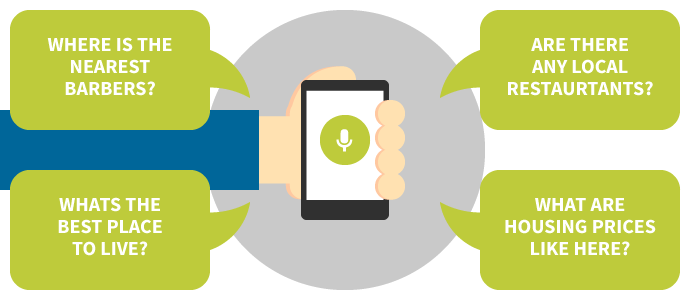 So how will voice search affect your content?
Every one of your users' needs a question answered and are looking for a product or service to solve their problems. In the information age the aim of the game is to education and demonstrate your subject leadership to build trust that you or your product can do exactly what it says on the tin. If you've been producing great quality content that users find valuable and 'answers your consumers questions and concerns' - congratulations – your 90% there.
If not – where have you been!
Here are some quick content tips:
Consider the questions your consumers ask in your content marketing strategy (sidebar: If you don't have one see this article on content strategy for guidance in how to get started). Voice search aside, providing this information is the key to demonstrating knowledge and thought leadership. Let's consider a hypothetical real estate business. Your consumers will be in the market for a new house and asking:
Where is the best place to live in X
What are house prices like in X
Are there any local schools in X
(And of course) Is there a Nandos in X
It's your job to communicate your content, message and brand by being present at this in the sales funnel us marketers call the awareness and consideration stage – remember, content attracts and engages! Be your client's best mate and be there for them when they need you the most.
To summarise the effect on content:
Focus on relevance not keywords
Answer your users questions in your websites content
Consider your users personas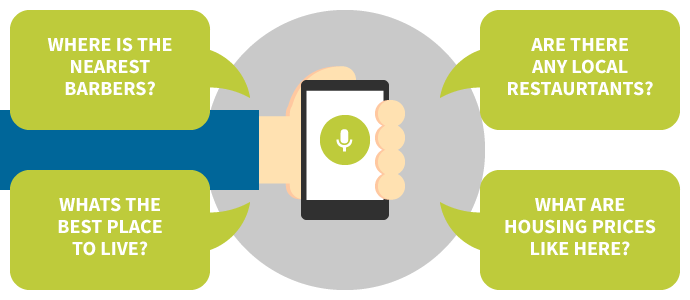 So how will voice search affect your SEO?
Semantic Search
Remember that Google uses semantic search.
Wikipedia: "Semantic search seeks to improve search accuracy by understanding searcher intent and the contextual meaning of terms as they appear in the searchable dataspace, whether on the Web or within a closed system, to generate more relevant results."
This means that Google no longer looks at a short keyword phrase but the relevance and context of the whole site. These advances have moved us from former queries like "restaurants in Rochester,' to more specific queries such as 'where to eat Indian food in Rochester' or 'what is the best place to eat Indian food in Rochester.'
With that said, again the focus is on creating relevant content that answers questions.
Mobile Optimisation
The majority of mobile searches will come from those using mobile devices equipped with Siri or Cortana. If you still haven't made the jump to a responsive website yet, maybe this will give you the push. It's been common knowledge for some time that Google ranks mobile optimised sites more highly in search engines. Be sure to optimise your content for mobile first to take advantage of this rise.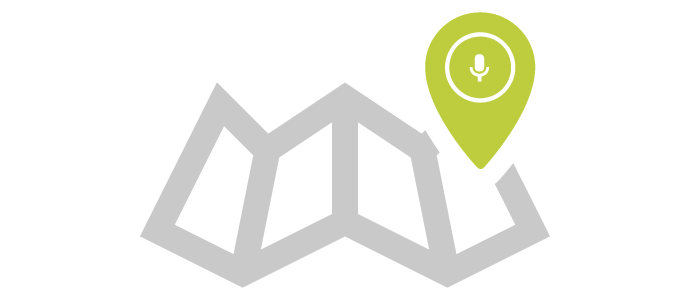 Local Search
Have you invested in your local strategy? Searches such as 'best Chinese restaurants' will serve local results as opposed to a list of Chinese restaurants and voice search will take advantage of this!
Local SEO has very much changed. Doing a search for 'plumbers in Kent' hardly returns individual websites and results. You will generally see Yelp, check a trade and other review sites dominating the top of search results. Ensure you are listed in Google my business, and build relationships with many local business to promote your local work to help you take advantage of local voice search.
So Should I have voice search on my website?
Our verdict: there is no short or medium term gain in developing native voice search within a website. The technology at present is nowhere near completion due to the following issues:
Browser support for voice / microphone input is too patchy - the infrastructure and technology just isn't that far along yet to get relialable results from voice searches for websites. Millions has gone into refining mainstream voice search platforms such as Siri. Browsers have a long way to go.
Accessibility issues when no microphone device attached – if your user doesn't have a microphone, then voice search is as useful as a chocolate teapot.
Voice search would be used outside the website to access info in the website or land in the website – voice search results will show a snippet of content from a web page and may give users even less incentive to go onto the site.
By Michael Alexander