At ExtraDigital, we provide several SEO services, including On-page and Technical SEO.
However, you may have several questions regarding the two techniques, such as what is the purpose of them, what is the difference between the two, and which technique should you invest your time and effort in?
---
What is Technical SEO?
Technical SEO is anything you do on the back end of your site to ensure that search engines such as Google and Yahoo are crawling and indexing your site. This makes your website more visible, which leads to an overall increase in your site traffic and higher ranking.
Our team at ExtraDigital has narrowed down the 5 principles to technical SEO approach as Crawlability, Indexability, Renderability, Rankability, and Clickability.
Within these 5 principles are some of the key aspects of technical SEO you will want to focus on to ensure that your technical SEO is enhanced:
Being device friendly: Your site must respond well to all devices. Statista estimates that mobile device users will increase to 7.33 billion by 2023, so keeping this in mind, you will need to ensure that your website responds well on mobile and all other devices.
Title tags and Meta description: Well done title tags and meta descriptions tell the search engine crawlers what your page is about. These will improve your click-through rates and attract high-quality traffic.
Well-designed internal linking: Internal linking is used by your users and the search engines to navigate through your websites; it will help them find the content they are looking for easily.
Site and page speed: The speed of your site is important to user experience. Google uses the site speed as one factor to rank pages; a page that takes longer to load will suffer from high bounce rates and low average time on page, which negatively affects your conversions.
---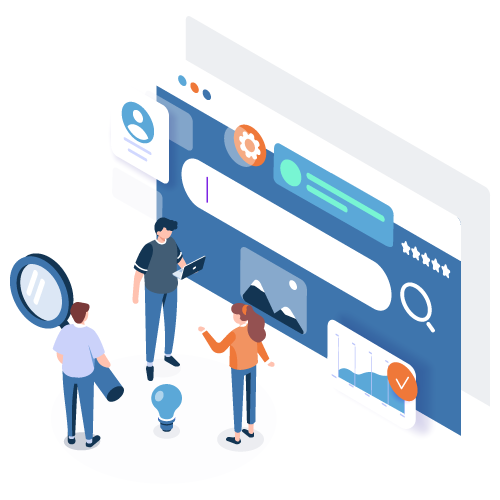 What is On-Site / On-page SEO?
On-page SEO also referred to as on-site or content marketing, is used to optimise your site content or HTML structure. It also looks at other elements such as header tags, site architecture, and image alt tags.
We see it as a website's covering letter; well-done on-page SEO will attain more traffic and improve its rankings in search engines. You can find more about on-page SEO and its 3 main principles here.
---
Which one to choose?
So, which one is more important? Technical SEO is perceived as more crucial by many; if the site is without proper technical optimisation, crawlers cannot index your site.
However, many marketers, including our team at ExtraDigital, believe that the two are equally valuable as they work together hand-in-hand to support your website. Both technical and on-page SEO are core SEO strategies, and you will find that some aspects of each overlap into the other category. Where technical SEO is the foundation of your website, on-page will aid your website through the usage of high-quality keywords, content, HTML elements, and well-designed site architecture.
---
So, in conclusion, both technical and on-page SEO are vital. There is no need to prioritise one over another - as your website evolves, your focus will switch between the two.
SEO Services from Extradigital: On the lookout for a well-rounded, experienced SEO Service provider? Talk to our team at ExtraDigital today and find out more about how you can grow your business with SEO.
---