Arabic Social Media
Arabic social media campaigns, similarly to any social media campaign, are great for online PR, customer service, customer retention and even to support search engine optimisation (SEO).
ExtraDigital have the expertise to assist your company in improving it's presence on all social media platforms and further reaching your target audience.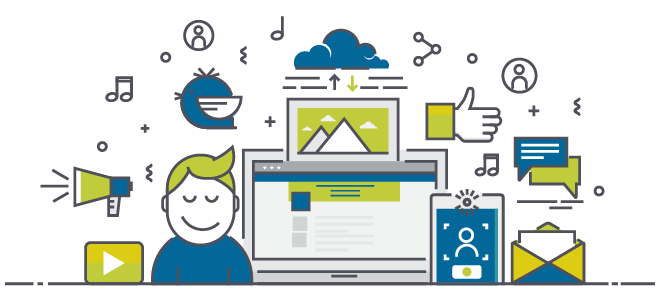 Our Arabic Social Media Services
Many businesses fail to see the value of social media, casting it off as a passing trend. This is where ExtraDigital comes in - we focus on what really matters - meeting your business goals and increasing your return on investment.
Our Arabic social media services will help you to:
Maximise your brand presence through online social channels by improving engagement with your customers
Encourage and improve customer loyalty to earn constructive feedback or repeat and recommendation business
Focus on return on investment to ensure you don't lose money to unprofitable activities
Provide a considered and results-focused approach keeps your social media marketing effective
How Do We Do It?
ExtraDigital have an in-house team of Arabic speakers and account managers who research statistics and behaviours of the Arab population in regards to internet use and social media use.
This enables us, unlike any other agency, to ensure our social media marketing strategies are as effective as possible in order to reach, connect and engage with your targeted Arabic audience.
We have been at the centre of many Arabic projects from Arabic social media management for world-renowned clients such as The Royal Marsden to the Arabic website design of the British Museum.
We are keen to pass on our extensive knowledge in Arabic social media and provide additional value to your organisation.
Have a look at some of our social media case studies below and see what we can achieve for your target audience:

Social Media in Arab Regions
To briefly highlight the importance of Arabic social media to your organisation, the Arab Social Media Report for 2017 provides a wealth of information regarding social media use in the Arab region.
The most popular Arabic social media platforms are:
Facebook – 156 million Arab users with the majority using it daily
LinkedIn

– 16.6 million Arabic users - a growth of 22% from the year earlier

Twitter – 11.1 million Arabic users, almost doubling from three years ago
Instagram – 7.1 million Arabic users with English being the dominant language on the platform
You can check out our blog post on the 'Prominent Arabic Social Media' and on 'Overlook Arabic Social Media Platforms'.
Next Step
If you are looking for sustainable and effective growth for your online business, ExtraDigital can assist you to increase revenue, traffic and brand awareness.
Our Arabic Social Media services start from £600 per month.
Get in touch with us today on 01227 68 68 98 or fill in the contact form below to speak to one of our social media experts.
Request a Quote
For prices or more details call 01227 68 68 98 or complete the form below.