SEO Services
Grow Your Business With SEO
ExtraDigital have successfully helped many businesses to:
gain and maintain top page rankings
see a very dramatic rise in website traffic
gain large increases in sales or leads.
Search Engine Optimisation or SEO is the best form of medium to long term marketing investment for almost any business.
Benefits can be huge - for new cilents, dramatic increases of many 1000% for website traffic and revenue are not uncommon.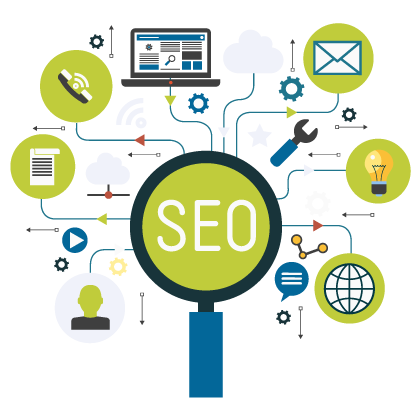 A great SEO service makes sure your website ranks well for the search terms that matter to your business and its customers. This way you get lots of highly relevant traffic to your website that turns into leads and sales.
Our SEO Service Process
At ExtraDigital we know that SEO services work best as an ongoing process of improvement, working to get you the best results month on month and year on year.
Monthly SEO Services
Our SEO services start from £500 per month and include the following areas in varying proportion depending on your needs and budget. We prioritise the most effective SEO strategy to give the biggest wins as quickly as possible.
Although faster results can be seen normally SEO needs 3 months to bed-in as optimised content gets indexed and site improvements get taken into account by search engines.
If you require results sooner SEO should be run in conjunction with Paid Search or PPC as this can bring almost instant results while your SEO builds.
On-page SEO
Improvements to website pages and content including use and placement of keywords, metadata improvements, user engagement, image and video optimisation, fix duplicate content, content creation and landing pages.


Technical SEO
Improvements to the website structure, function and indexing ability. This can include improvements to site speed, structured data, mobile-friendliness and code quality.


Off-site SEO
Content marketing

through brand controlled channels including

blogs and social media. Plus

Content outreach to non-controlled authority channels including influencers

online, blogs and related authority websites (long-term investment).


Research, Analysis, and Reporting
Research into the market, target audience and competition plus detailed keyword analysis. Performance in regularly reviewed and data fed back into the SEO strategy. Regular reporting at intervals convenient to you so you remain fully informed, but the majority of the resources goes into SEO work.
SEO Case Studies
What Our Client's Say
"ExtraDigital has been our marketing company for the last 5 years, they have helped grow and expand the business through increased brand awareness.

Emma, our account manager, always listens to our requests and provides practical support on how to enhance the Gideon Hillman Consulting website to ensure it generates as many leads as possible.

ExtraDigital's work has helped us attract more customers since the new website was launched we have noticed a dramatic increase in enquiries.

I would recommend ExtraDigital to any company that wishes to maximise the marketing power of the internet and attract new customers."

Gideon Hillman - Gideon Hillman Consulting
Next Step
For more details on how our SEO services can help your business call us on +44 (0) 1227 68 68 98 or tell us more about your plans below.
Request a Quote
For prices or more details call 01227 68 68 98 or complete the form below.