Tiles360
---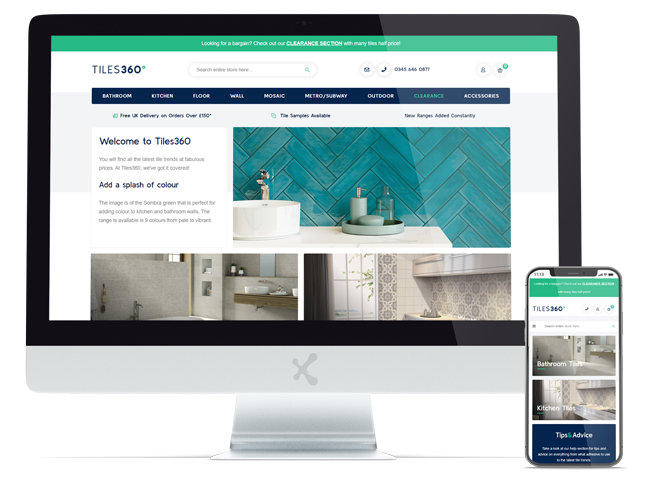 ---
CLIENT: Tiles360
SERVICES: Magento Design & Development
---
INTRODUCTION
Tile360 offers its clients high-quality, trending tiles. ExtraDigital were sought out because they needed a brand and website designed for the B2C tile market. We recommended their website to be built on Magento 2 – it also needed to be integrated with Merlin ERP.
DESIGN
For their branding, we designed their logo in vector format so it could be scaled to any size without losing quality and can be used in any format including letterheads, social media and digital platforms.
As we value brand consistency, we provided a brand guideline with the specifications of the branded materials so any future design work would be compatible and consistent with our design efforts.
We designed the website to be functional on both mobile and desktop with the client providing a range of specific requirements they needed to be displayed. This included standard Magento 2 functionality which we made visible including 'sort by' and 'page/results pagination'.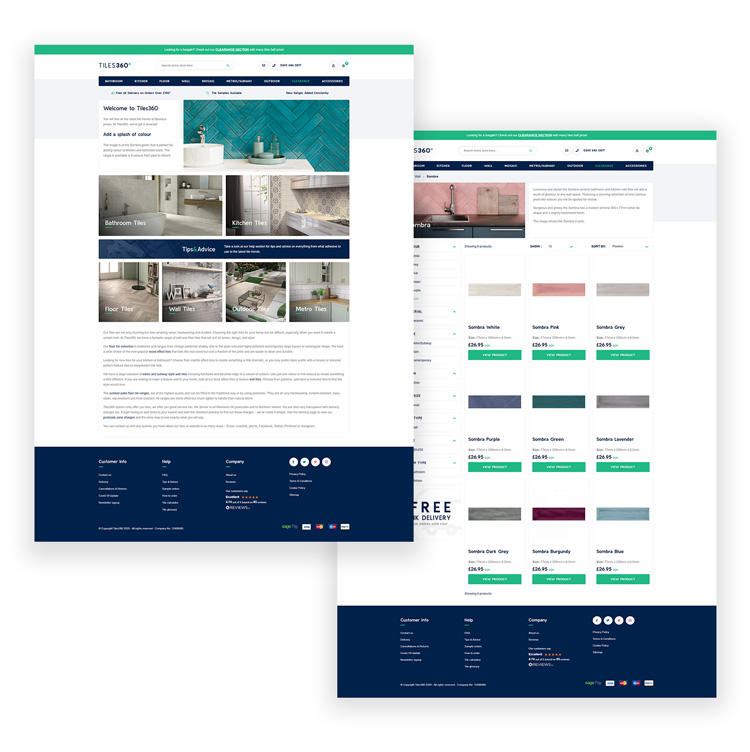 Due to our experience and knowledge of Magento 2, we were able to provide tailored recommendations for module add-ons which would provide solutions to the requirements that the client had made. This included either implementing 3rd party modules or developing them ourselves.
In some cases, Magento 2 did have standard features which would be adequate in fulfilling the client's needs, but we still provided recommendations for 3rd party where we believed they would receive better results. These included the 'site search' and 'Checkout/Abandon Cart' functions.
In our experience with integrating Magento with a variety of different ERP systems, we understood that customisation would be required when integrating it with the Magento design. Equally, there would be two parts to the integration – Products/Stock and Customers/Orders.
With the integration, Merlin holds the product, pricing and general stock information which gets synced to Magento throughout the 24-hour cycle. Stock information is regularly synced which price changes less often (we initially set it up nightly); however, this can be adjusted based on performance and future requirements.
The second part of the integration allowed for Magento to send the ordering information back to Merlin for its fulfilment, including customer, delivery and order information. Once completed and order dispatched, the order status was fed back to Magento to communicate with the customer the order update.
To enhance the order process, we included an additional integration with the client's courier's API, which would automatically send their orders ready to be shipped.
---
WHAT'S HAPPENING NOW?
Once the site was built and we had completed our site checks including links, sitemap and pages were functional and working, the site went live with the client's approval.
Since the site has been live, we have added an automatic follow up email on their request. This automated function sends a follow-up email the week after a customer's purchase. This add-on ensures customer satisfaction and helps with their marketing efforts.
---
To find out how ExtraDigital can help you call +44(0)1227 68 68 98 or tell us more about your needs below.
---
Request a Quote
To discuss your project in further detail, call 01227 68 68 98, or complete the form below.