An intelligent website to complement the new St Catherine's Hospice branding.
---
CLIENT: St Catherine's Hospice
SERVICES: Design & Development
---
INTRODUCTION
St Catherine's Hospice is a local charity that is there with expert hospice care, when and where they are needed most. They have skilled teams on hand to support people living with terminal illness in their homes, at a Day Hospice and on their wards.
St Catherine's Hospice approached us with a vision of reinventing their current branding and producing a new website to complement that. The website was to be the principal asset for the new brand, showcasing the charity in a whole new light.

After nearly four decades of service, St Catherine's Hospice decided it was time for a refresh. Research had shown that local people were not aware of who they were or how they could help.

A much more focused and cohesive brand was required. One that allowed people to immediately identify with St Catherine's Hospice through whatever medium they had seen.

St Catherine's Hospice instructed London-based branding agency SomeOne to undertake the branding. We received the results mid-build and were pleasantly surprised. A fresh take on charity branding with bespoke elements that we could see working extremely well in our completed design.

The construction of the site was rather unusual. The development came before design, a genuine case of 'form follows function', which would make any 20th Century architect proud.

We worked alongside the branding agency to meet the deadlines set by St Catherine's Hospice. Building out the core functionality of the site and then applying the design once it was constructed and tested.

Working in this way is quite unusual in our industry but we overcame the obstacles, and believe the finished article to be quite impressive. We have managed to build a bespoke site regarding functionality while retaining the core brand values set for St Catherine's Hospice.
---
DESIGN

---
FEEDBACK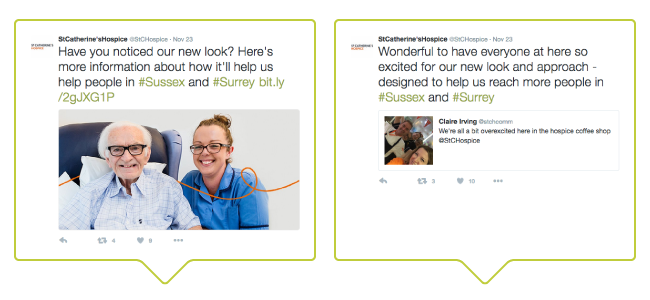 ---
To find out how ExtraDigital can help you call +44(0)1227 68 68 98 or tell us more about your needs below.
Request a Quote
To discuss your project in further detail, call 01227 68 68 98, or complete the form below.