Onyx Fire & Security
---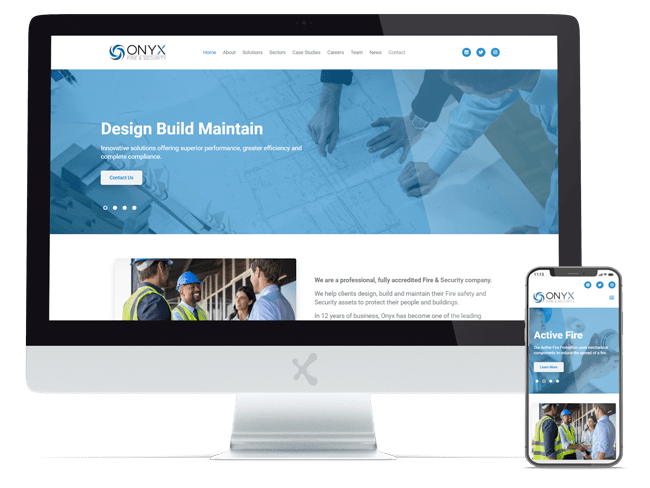 ---
CLIENT: Onyx Fire & Security
SERVICES: Multilingual, Design & Development, Marketing
---
INTRODUCTION
Onyx Fire and Security are a highly reputable and experienced company within the fire safety and security industry, delivering solutions to clients across the UK. Following the acquisition and changing of offices, a new website was the next step in their growth plan.
Onyx approached us to design and build the site and populate it with content; having worked with clients in the fire safety industry for several years, the client knew we had a good understanding of the industry, the design and content required
DESIGN
The design needed to have a professional approach whilst being accessible for users and easily functional. When designing a site, it's important to keep brand continuity, and we ensured the design was consistent throughout using brand colour CTAs, overlays and blocks.
While designing the site, we also designed the company's van wrap to ensure brand consistency, creating a cohesive look and feel from the site to the company's physical attributes.
As part of the client's growth, their business operations changed through the design process. As a result of frequent meetings and communications, we could reactively change the site's design by removing and adding new pages where appropriate to facilitate this change.
The site's content needed to be concise yet provide the necessary information for audiences to still convert. By designing the solutions and sectors pages with a generic overview page linking to the different areas, we can provide audiences with an outline of the company's solutions and sectors. With links to further pages outlining these areas in more depth.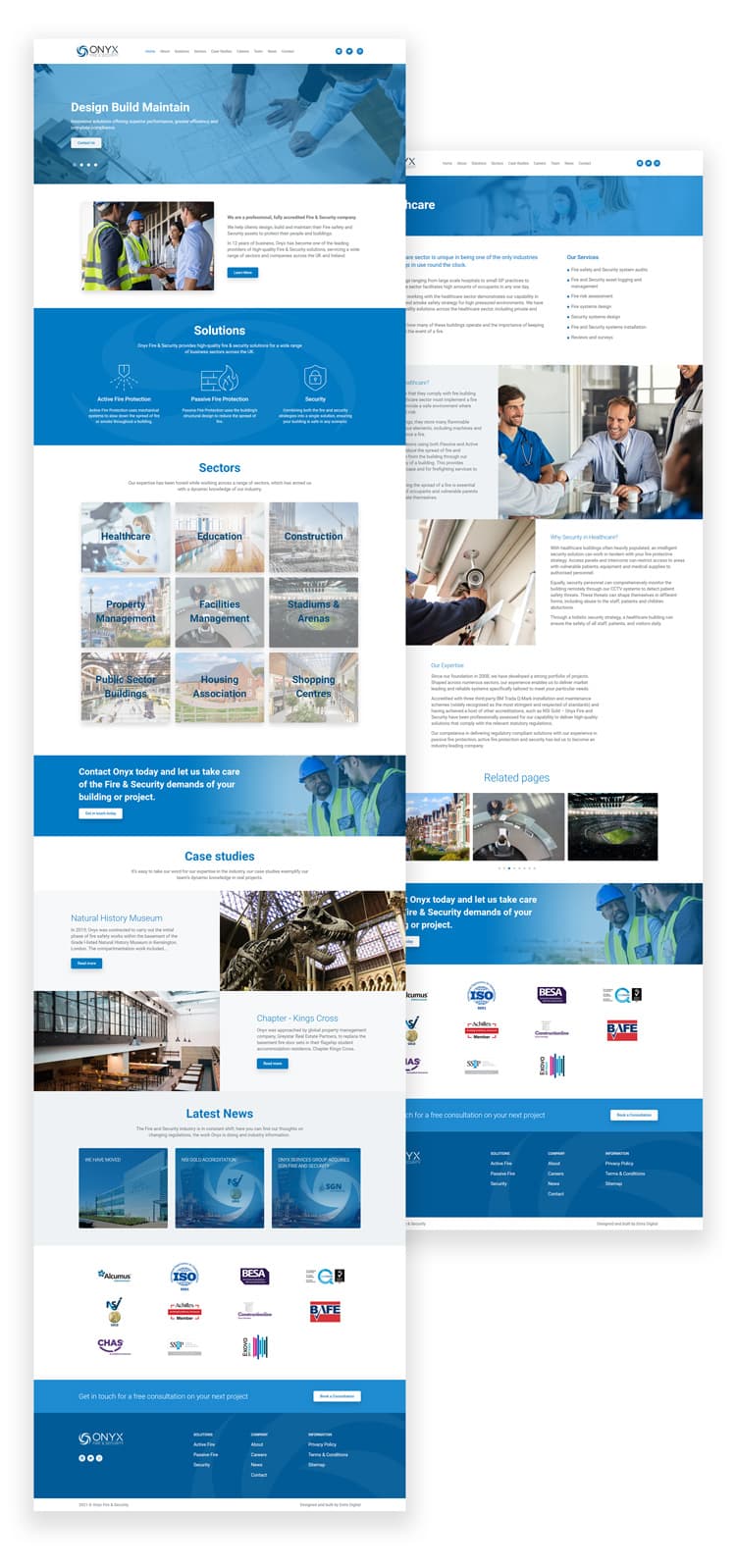 As a fully-fledged design, development and marketing agency, we designed and built the site with marketing capabilities in mind, including a mobile-friendly design, optimised for SEO and to date with the latest best practices.
As part of the work, we provided content to populate the sites, including the copy and infographics. This enabled us to create infographics that are compatible with the copy whilst aligned with the branding guidelines.
Our copywriting approach for clients includes diligent research into their industry, product offerings, and competitors to grasp the best practices for writing the copy, including the sectors they work in and its fire safety requirements. Our content marketing services include blogs, web copy and whitepapers to ensure the copy is on-brand and optimised.
Our approach to design and development work involves consistent collaboration and communication with clients. Through regular meetings with Onyx, we ensured that the site was conforming to their expectations and needs whilst correctly functioning and optimised.
---
To find out how ExtraDigital can help you call +44(0)1227 68 68 98 or tell us more about your needs below.
---
Request a Quote
To discuss your project in further detail, call 01227 68 68 98, or complete the form below.