Pay Per Seat Private Jets for Pets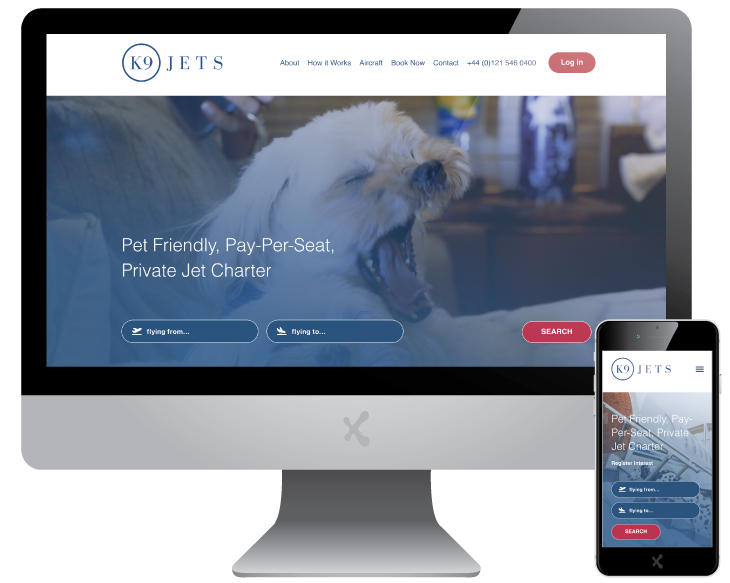 ---
K9 Jets Booking System
Having worked with Adam Golder of G6 Aviation for a while, managing his Google Ads for the Private Jet firm he and his partner started during Covid. We were not surprised when he turned to us to enquire about his next venture - Private Jets for Pets.
K9 Jets would be an extension of G6 Aviation, offering private jet flights and allowing passengers to take their pet/s onboard with them. To be honest, we were a little sceptical at first… "Who would pay that much to travel with their pets", boy were we wrong!
As Adam laid out his plan of offering a pay-per-seat approach to private jets, ultimately crowd-funding the flight, our interest peaked. This is a revolutionary approach to Private Jet flights, and allowing pets onboard took it to the next level. Adam, confident as ever, explained he had access to a Facebook group of people looking for just this service and, upon launch, knew he could generate interest and, indeed, orders from some of the members of the group.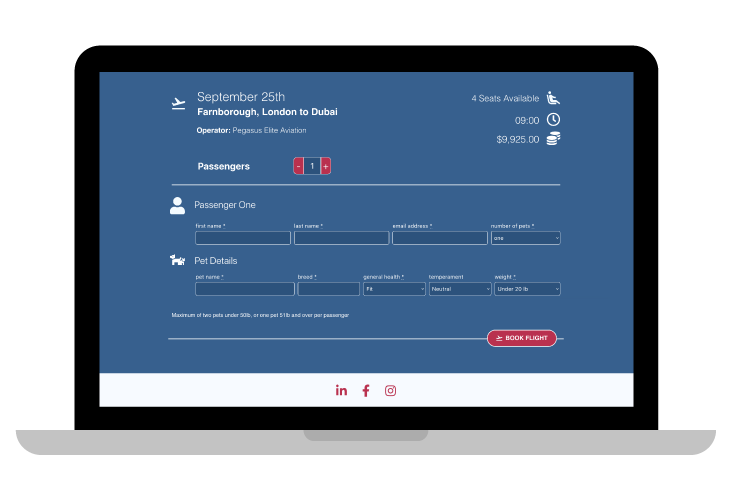 The Brief
ExtraDigital were tasked with creating a website for K9 Jets with a pay-per-seat booking system. The booking system would need to allow users to select a flight, add the number of seats required and add details about the pets they would be travelling with. After checkout, they would need a secure portal to upload their documentation to in order for relevant checks to be made.
After some consideration, we decided that WooCommerce offered the best platform for us to build out the bespoke functionality required for the K9 Jets Booking System. A design was created for each step of the user journey, and the approved process was taken into development. Using WooCommerce, we extended the functionality of Products, Categories and Checkout to suit our needs, adding the required fields for the capture of data about passengers and pets.
We worked closely with the client to get the messaging of the homepage correct, ensuring clarity in the positioning of the service. Once we had the homepage dialled, the rest of the site came naturally. We created areas of interest and information that would offer further information and build trust with potential customers.
Secure Document Portal
For the secure document portal, we toyed with the idea of having this in the WooCommerce account section, but for security reasons, we decided against this. Passengers would need to share personal data in order to complete their booking, so our solutions would need to offer complete security.
We opted for an offsite solution with a secure form upload, which encrypted/decrypted in the browser using 256bit AES in Galois Counter mode. The decrypted data is sent in a link for Adam to review and delete.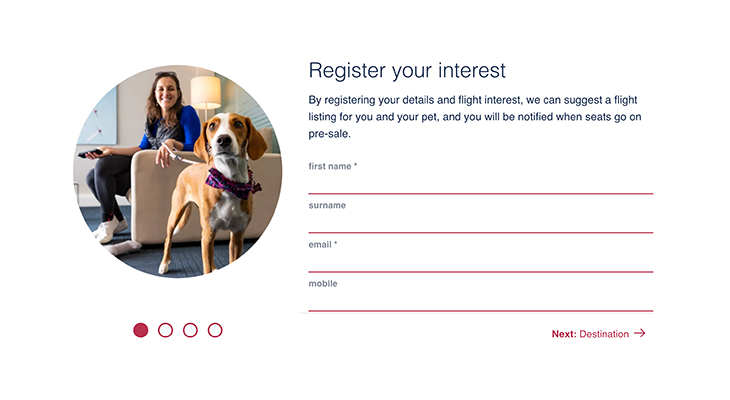 Marketing
We knew Adam had a targetted audience in the Facebook Group to which he had access. To leverage this, we created a landing page ahead of the official site launch for prospects to register interest in the K9 Jets service.
A dedicated form provided Adam with essential information from the audience as it was completed. Customers selected their preferred departure airports and destinations, giving Adam a clear guide on what routes he should launch with an insight into future routes to offer. This also gave Adam a good mailing list for initial correspondence on the launch of K9 Jets.
In discussing the project with Adam, we advised him to choose a robust CRM for him to manage subscribers and customers. We felt that HubSpot would be a suitable solution for K9 Jets, not just for their award-winning CRM but also for the Marketing and Sales Hubs it offers. ExtraDigital handle the onboarding onto HubSpot CRM Start Suite, a great option for any small business looking to start out with a CRM solution with added benefits.
The creation of forms and emails followed, using some of the automation tools offered within HubSpot to automate some of the interactions with contacts. HubSpot's email marketing has enabled K9 Jets to keep its audience engaged and up-to-date with forthcoming flights and new routes. It also provides a means of keeping a set of customers informed about their flight and collecting any further information that may be required.
Moving forwards, we plan to sync WooCommerce with HubSpot so that Adam can store bookings as deals in HubSpot and keep all correspondence and records in one system.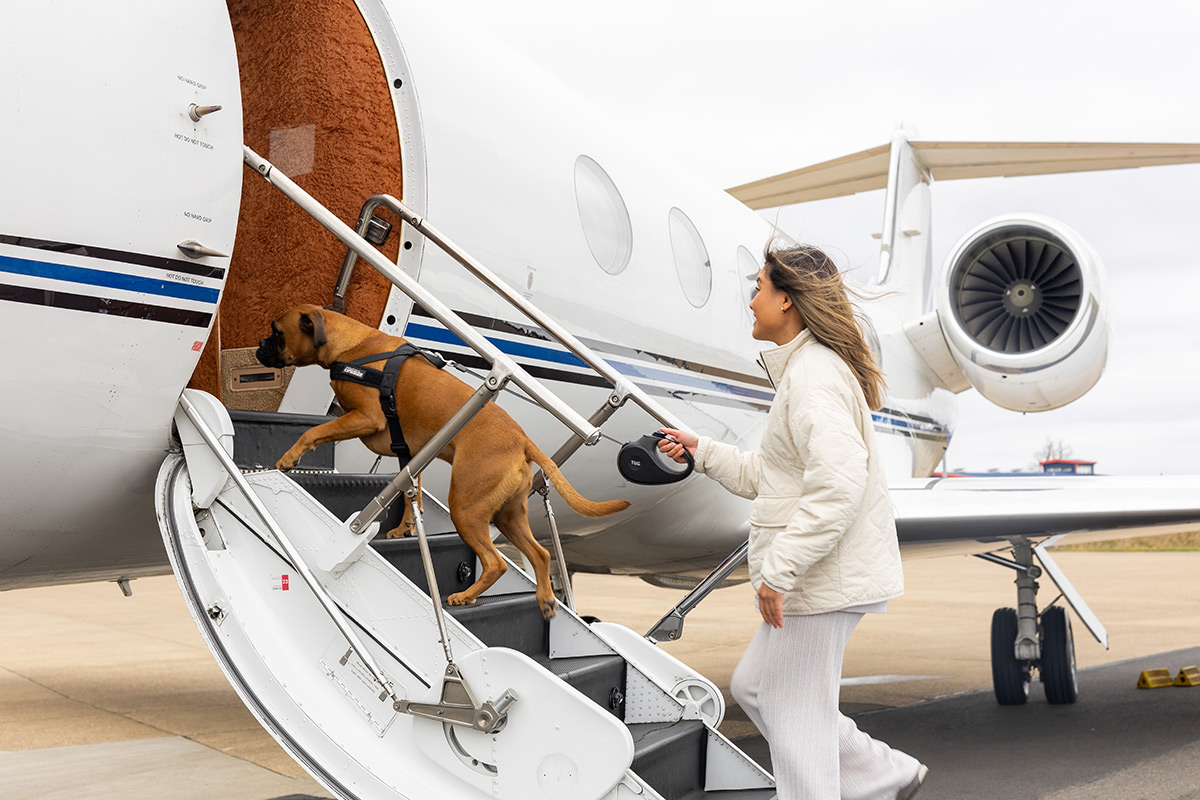 Launch
K9 Jets was launched on St Patrick's Day, 2023. It was met with a fantastic reception. Orders began flying in, and the system we built handled the volume remarkably well. We had primed the audience with launch material in the lead-up to going live, and they responded in their droves, with the initial flight listings selling out in no time.
It's not often you get to launch an eCommerce site that achieves 6 figures within 24 hours.
Since then, K9 Jets has gone from strength to strength, accruing many happy customers, adding new routes and further flights due to demand, and also garnering some pretty impressive media attention.
Following the launch, there have been several improvements made to the functionality of the booking system, such as the implementation of search and api integration with third-party vendors. We are looking forward to our continued work with Adam and the team at K9 Jets.
Go and follow K9 JETS on Instagram.
Summary
Further enhancements are planned for K9 Jets, so keep an eye on this one as it evolves, to improve UX and customer retention. K9 Jets is just one of many examples where ExtraDigital has exceeded client expectations with impressive digital solutions.
Whether it be eCommerce or Data Reporting software, our development team are well versed in creating solutions that solve problems for their users, planned and managed methodically, with best-practice at the core.
If you're looking for a digital solution that requires custom development and want to discuss your idea further. Reach out to our team for a free consultation. We'd love to discuss your plans.