German Website Design and Development
CLIENT: CM Scientific
SERVICES: German Website Design and Development
---
CM Scientific Case Study
In the summer of 2018, ExtraDigital designed and built a website for CM Scientific to encourage the sales and engagement in the German market.
CM Scientific has been supplying specialised scientific materials and consumables to universities, research establishments and leading commercial organisations since 1980. CM Scientific has been supporting and helping its large German customer base for more than 30 years, leveraging its own warehousing and distribution practices in the UK.
---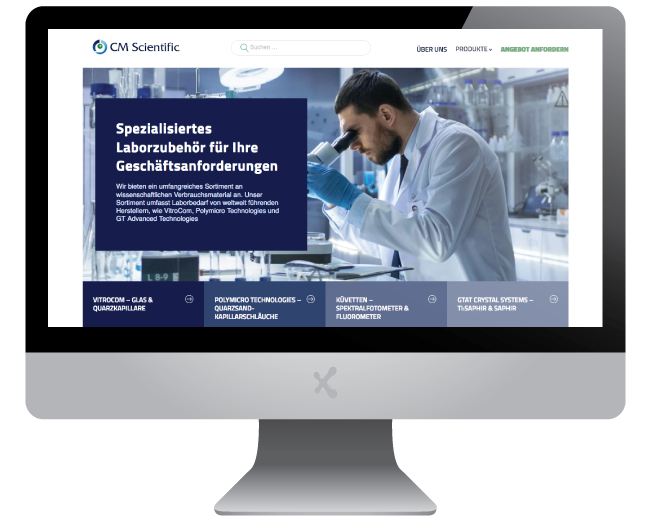 ---
Multilingual Web Design
ExtraDigital specialises in multilingual services and were able to not only build and design the website but also write the copy necessary for the site in German. Our in-house German specialist wrote over five pages of SEO optimised content ensuring it would fit well into the website.
The client requested a clean, professional and brand-friendly design. With the logo being blue, white and green we saw this as a great opportunity to use the same colour scheme to uphold brand identity and consistency. We built CM Scientific a brochure website on WordPress. Bearing in mind that more websites may follow we chose to keep this option open so kept the website simple, but professional and effective.
Results
The aim of this website was to encourage the sales and engagement of the German market with a specific German CM scientific website. The products being sold are very niche and are dominantly being bought via purchase orders yet have seen some great results since the website went live.
For the future, we are starting to work on the French website and are hoping to soon build CM scientific a fully responsive eCommerce site for the .com market, alongside the German and French website.
---
If you're looking to open your business to a wider audience a multilingual site is a great option. It shows consumers that you're invested in doing business in their region and offer an improved User Experience over a single-language site. Not to mention the huge impact it will have on country-specific search rankings.
Contact one of our multilingual experts today to discuss your next move.
---
Request a Quote
To discuss your project in further detail, call 01227 68 68 98, or complete the form below.