Advantage Catering Equipment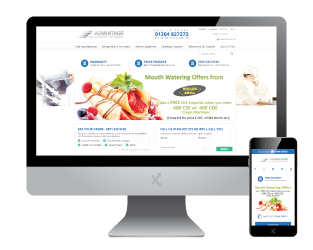 ---
CLIENT: Advantage Catering Equipment
SERVICES: Magento website marketing
---
Advantage Catering
Advantage Catering wanted a local Kent based company to help with their website marketing. They had two Magento websites with a large number of products and the number of online sales was disappointing compared to the investment spent on the website.
The range of products sold covers all types of industrial and commercial catering equipment, with free delivery on high-value products. Advantage Catering stocks the leading brands of catering equipment at competitive prices. This includes cooking, refrigeration, warewashing, and janitorial equipment.
The Challenge
Initially the website was not very visible in Google, so visitor numbers were low. To overcome this we started on a programme of SEO work to improve website rankings of pages with main products.
A key issue was the speed of the website, and we ended up helping solve many of the technical challenges of the website.
Magento website optimisation
The websites had a large number of product categories, and these categories each had a large number of filter options. When the website had been built no consideration had been given to database optimisation or even the limit of the query possible. There were far too many sets of filtered options, such that some database queries were too long to be run.
We, therefore, helped restructure the category filters to work in a more optimum manner.
ExtraDigital has been building Magento websites since 2005 - so we have a lot of experience in terms of optimising the websites for better speed and better marketing. We are able to give detailed technical SEO advice or carry out the work ourselves.
Results
After one year the marketing work was showing a positive increase in organic growth from SEO and a better user experience on the website:
Website users up by 11%
28% increase in pages viewed
Positive reduction in bounce rate of nearly 20%
---
If you are looking for help with marketing your Magento website please give us a call on +44(0)1227 68 68 98.
Alternatively, tell us a little more about your requirements below.
---
Request a Quote
To discuss your project in further detail, call 01227 68 68 98, or complete the form below.