Magento Theme Design
Bespoke Magento Theme Design
When a customer visits your website, they decide very quickly whether they like what they see. This quick decision is based on what the webpage looks like - i.e. the design. Your website must look good. First impressions count.
Secondly, can the potential customer find what they want quickly and easily? Is the navigation clear and intuitive to use? Does the search work as expected? This requires a well thought out website layout and user journey.
Successful Magento websites have an excellent visual design based on a user-friendly layout. This is the website "theme" or "design".
It is possible to purchase standard themes, but these will rarely be just right for your business, and a bespoke Magento theme (or design) is better.
The process
With any design work, the first stage is understanding the business aims and the products or services. It is essential to know the product or service benefits - are you the "best", the "cheapest", "unique", or "quick". We also ask about the types of customers you have and what they are interested in, as this influences the design.
Existing brand information is important - and many businesses can supply us with a brand guidelines document. This might be a simple logo and colours, or it might contain detail on allowed fonts and image style and tone of voice. We then ensure the design matches this.
When designing, we also take note of the latest best practise for usability to get the best user journey. This is important for search engine optimisation (SEO) and ongoing marketing.
Producing the visuals for the design will often be done first in a drawing package as this is more efficient, and allows for quick revisions. Once a design concept is agreed, we work to produce a responsive template or "theme" for your website.
What is included with a bespoke Magento theme?
There are many design elements within even a basic Magento website. This includes:
Homepage layout for desktop and mobile
Homepage Banner design for desktop and mobile
Menu for Desktop
Menu for Mobile
Category page design in grid view
Category page design in list view
Category page on mobile
Product page design on desktop and mobile
Add to Cart or Basket buttons and any widget on the menu to access these pages
The basket page
The checkout page
Offers
Message and alerts
Extra fields such as coupon codes
Contact page
Delivery info/privacy policy page layouts
Email layout and design
Account pages when a customer logs in.
Many stores will have additional design requirements for specific extra functionality.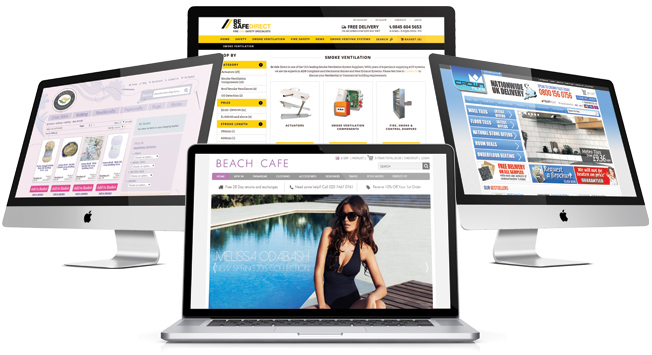 Magento Theme Design & Development
To find out more about our Magento theme design and development services, give us a call on +44 (0) 1227 68 68 98. Alternatively, tell us about our project below, and a member of our team will contact you.
Request a Quote
For prices or more details call 01227 68 68 98 or complete the form below.