French PPC
Paid per click (PPC) advertising is a sure-fire way to guarantee digital lead generation for your business quickly.
If your business targets French customers, then you need French PPC campaigns. You can market your products or services directly to the French-speaking customers searching for them.
However, an effective French PPC strategy is not always as quick and easy to set up as you might think. That's where ExtraDigital comes in. With years of multilingual experience, we can get your PPC up and running fast, letting you concentrate on your business.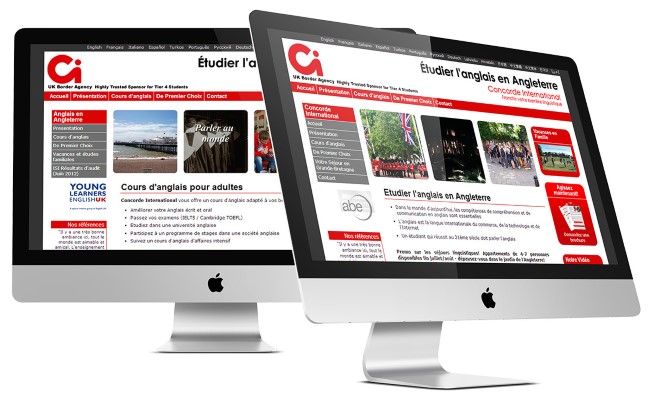 Key Facts on PPC in France
France has the 2nd biggest online population in the EU but makes fewer searches compared to other countries
Low searches mean the French PPC market is less competitive and offers lower bid prices making it great value
Difficulties are largely due to French words being longer than English, making compelling ads harder to craft
Learn more about French PPC online with our blog 'Opportunities of French PPC'.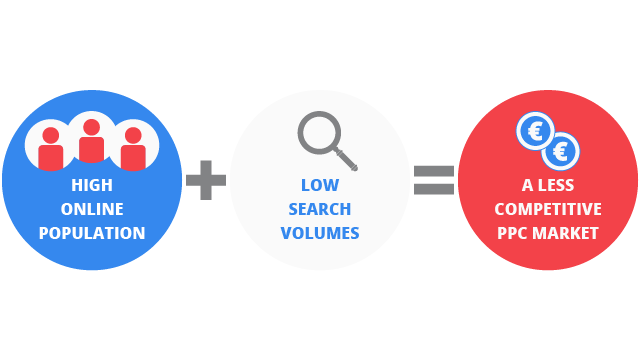 Why Outsource French PPC?
Time really is money.
Using an experienced PPC agency like ExtraDigital means you don't have to learn how to create a PPC strategy that may or may not work. You can let the experts do their job and start seeing sales and leads much faster.
Pay per click advertising has become a busy field, with Google Ads and Bing PPC to Facebook to LinkedIn paid advertising to choose from. Being in the right place at the right time is vital to winning that customer and we make sure you are.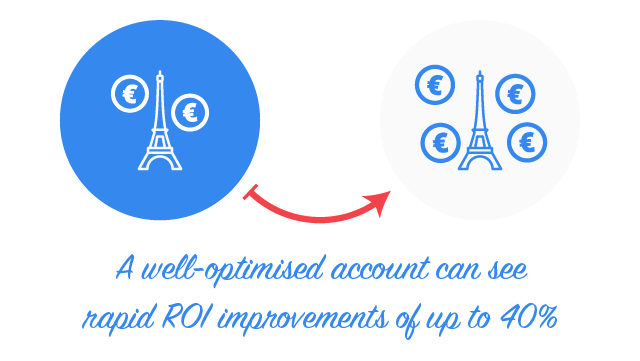 A well-optimised account can see rapid ROI improvements of over 40%.
Plus we have PPC certified native-speaking French PPC experts with years of experience.
We can even analyse your ad copy, bids and landing pages to reduce your spend without sacrificing quality leads.
Why Choose ExtraDigital?
We will work closely with you to align your PPC campaigns with company goals and provide an efficient, cost-effective solution to advertise your business.
ExtraDigital managed PPC accounts across most industries bringing in B2C and B2B sales lead generation.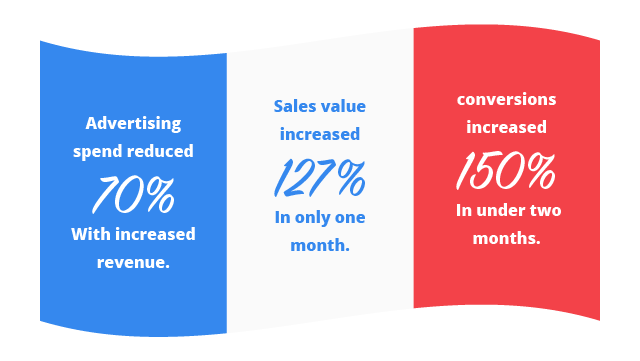 Our results have included:
Spend reduced 70% while increasing revenue
4x more sales and 2x more profit in under two months
150% increase in goal conversions in under two months
New business enquiries up 126% month on month
Cost per conversion down 74% month on month
PPC is internationally recognised as one of the most efficient and cost-effective forms of advertising. If your campaigns are set up well and with continued optimisation and monitoring, you can achieve great results.
Get in Touch
If you need to target a French audience, we would love to hear from you. Call +44 (0) 1227 68 68 98 today or tell us more about your business below.
Request a Quote
For prices or more details call 01227 68 68 98 or complete the form below.