Responsive Design and Development
Having a responsive website ensures your business not only looks great across different mobile devices, but more importantly that your potential and existing customers can find and use your website successfully.
With half of all Google UK searches now on mobile having a mobile friendly website is a must!
Google also announced that from April 2015 mobile friendliness will now be counting as a search ranking factor.
ExtraDigital now more than ever strongly recommend that all website owners change their websites to a mobile responsive design.
Call ExtraDigital on +44(0)1227 68 68 98 or complete our contact form Today!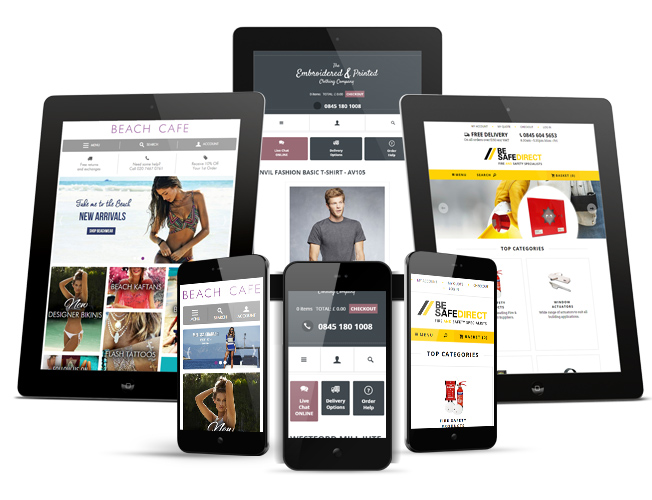 Growing Mobile Use
Ofcom reported that in the 1st quarter of 2014 61% of UK adults owned a smartphone and this figure is steadily growing.

Ofcom also reports Tablet take up in the UK was 44%.

In Q1 2014 57% of UK adults used their mobile phones for internet access.
Over 35% of tablet users say the device is their main way of connecting to the internet - only 29% preferring to use a laptop.
Half of all UK searches on mobile devices (Google May 2015)
Since the Ofcom report mobile device use has increased globally and in the UK.
At ExtraDigital we have seen a strong shift to increased mobile use across a wide number of sectors with eCommerce perhaps seeing the biggest increase.
Responsive Design
You may already have a web design you love that needs converting to be fully responsive. Alternatively you might want to take the opportunity to do something fresh and exciting with your website design.
Both approaches can be highly successful and at ExtraDigital we work closely with our clients to get the responsive design that's right for you.
View our web design portfolio
Responsive Development
When developing a website for mobile devices our developers take into account the wide number of devices available from sleek slim smart phones to larger screen tablets and iPads plus traditional laptops. This involves creating sites that work consistently across a variety of screen sizes, operating systems and platforms.
This is complex work completed by our specialists in mobile and responsive website development.
Just the same as with our responsive design we work closely with you the client, providing dedicated testing environments so you can review, test and approve the development.
Find Out More
Call ExtraDigital on +44(0)1227 68 68 98 or complete our contact form to find out more about going responsive!