ExtraDigital was already managing PPC and assisting this client with SEO for their tiles shop when we were asked to also provide consultancy on the best use of social media to grow brand awareness and boost the business.
Social Media for Tiles: Approach
A marketplace and competitor analysis revealed that while it was easy to spend a lot of time and money on social media, the best way to ensure high return on investment for this activity was to focus on the principle measurable benefits of various social platforms - the SEO benefits (authority backlinks) and the referral traffic and its conversion potential.
Initial advice on setup, branding and basic use of Facebook and Twitter to maintain high authority backlinks from these domains for SEO purposes
Guidance on next most valuable platforms to establish a presence on for social branding and referral traffic with high conversion potential
Advice on placement on visual platforms with the best conversion rate for tiling products via lifestyle images - e.g. Pinterest, YouTube, Flickr
Advice on placement and maintenance of a social presence on sites with lower conversion potential for SEO benefits - e.g. Google Plus
Suggestions on increasing visitor engagement to boost social media from a basic "brochure" presence to brand-building social marketing
Social Media for Tiles: Results
The graph below shows social network referral traffic growth over time (exact figures are not shown to preserve client data confidentiality). Click to enlarge.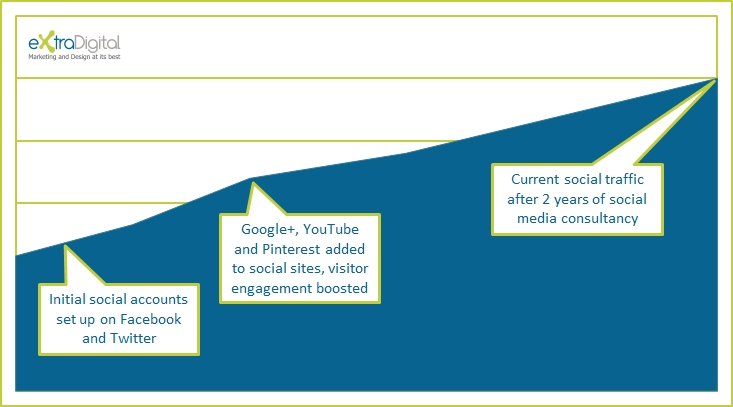 Typical results for any given month include (figures taken from real client data):
90% year on year increase in social referral traffic from Facebook
250% month on month revenue increase from Pinterest social referrals
123% year on year increase in onsite conversions from social traffic
8x more referral traffic from Twitter year on year
If you are looking for sustainable and effective growth for your online tiles web shop, Extra Digital's social media consultancy, sector familiarity and design and development assets can help you realise significant growth in revenue, traffic and business brand. Contact us today to find out more, get an initial free social media review and find out how we can help you grow your online tiles business using social media.