In our last RealD case study, we discussed progress on their Spanish and French social accounts as we had only just taken on their UK territory. We promised an update on how that was going… and here we are keeping that promise!
RealD is an innovator and licensor of stereoscopic (3D) and other visual technologies for use in cinema and on consumer electronic devices. They are the world's largest 3D cinema platform, with over 26,500 screens in 72 countries.
The Project
ExtraDigital manage the UK's French, Spanish, UK, and now German social accounts. The goal of the project is to build brand awareness of 3D movies that are releasing in cinemas and getting people to click on links where they can buy tickets for 3D screenings.
This project is run a little differently than other clients as RealD are in the film industry. Films are strictly copyrighted – meaning the content we share on social is too. Often consent has to be given by the studios, (Fox, Warner Bros, Disney), and we have to pay special attention to Embargoes on certain content.
All this talk about 3D movies may stir up some inspiration. Head over to the RealD Facebook page, and you might be surprised to see a movie you have wanted to see is releasing in 3D!
All of this is considered for each territory; however, each country is completely different. Films can come out on different dates across territories, some 3D films may not be released in a certain country, and all content has to be localised.
As a result, our team works closely with the client to create a social media strategy that allows for loads of flexibility.
What we do:
Localise all content for each territory
Monthly Plan in each language
Optimise content according to the social platform
Monitor social platforms including commenting, replying, and interacting with followers
Create Audiences – by genre, movie titles, and location of 3D cinemas
Budget optimisation and allocation
Video Subtitling
Build brand awareness through likes campaigns
Create ad campaigns for each film; this includes testing different audiences, types of media, landing pages, and types of ads (single image, video, slideshow, etc.)
Summary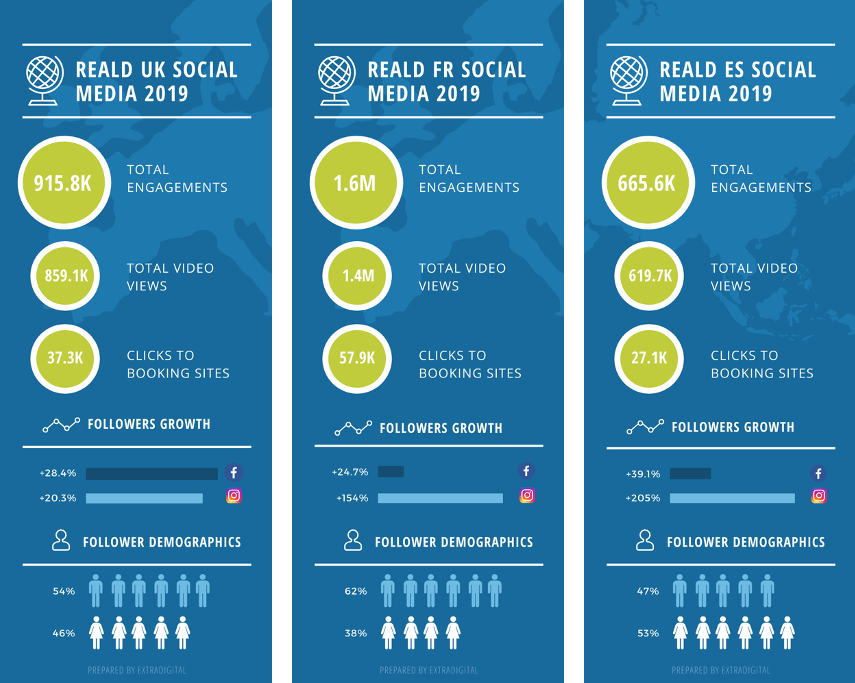 We have seen impressive results in each territory since we have been managing them. The client is extremely happy, and we are excited to watch this account grow even further!
RealD Europe LTD is a global provider of technology systems allowing over 2 billion people to go and see the latest blockbuster movies in 3D at their favourite Cinema chains. After employing ExtraDigital mid-last year to manage our French and Spanish social media platforms with the aim to increase our engagement and ticket sales for the 3D format we have seen huge results, particularly in our French market. The multilingual language service that ExtraDigital provide not only allows us to communicate to our French and Spanish consumers, but the management also allows us the time to test creatives and measure the effectiveness of each channel in those markets. The service and support we have received from ExtraDigital are second to none, and we look forward to our partnership continuing and developing over the coming year.

Lily Freed,
UK Marketing Executive
RealD

Social Media Management Services
At ExtraDigital, we've got the expertise to build a professional and engaging account for our clients with the bonus of multilingual staff, offering an opportunity to open new markets for your business. Our range of cost-effective and inspired social media management will keep your brand at the forefront of the social space in any country.
Account branding and page design aimed at your target audience
Full content strategy to keep customers engaged and attract brand champions
Regular posts, updates and monitoring to ensure positive engagement
Social PPC advertising and applications to improve your presence on all channels
If you have multilingual accounts you would like managed, or you are interested in creating multilingual social accounts to better connect with audiences, get in touch with our helpful staff today!
---