RealD is an innovator and licensor of stereoscopic (3D) and other visual technologies for use in the cinema and on consumer electronic devices; with the world's largest 3D cinema platform of over 26,500 screens in 72 countries.
In September of 2018, ExtraDigital was approached by RealD to fully manage their French and Spanish Social Media. Meeting with RealD a few times, we were able to understand the scope of the business and exactly what they wanted to accomplish in these markets. The brief was to create a social media strategy that would exhibit why each film is better to see in 3D over regular 2D.
To create a comprehensive social media plan, we began by compiling market research which included research into audiences, competitors, and the industry. Due to the film industry's copyright, the content strategy had to be carefully considered as all content must be approved by each film studio before being shared.

Our ongoing management for each market consists of:
Creation and optimisation of audiences
Content Creation; this involves generating engaging and relevant ad copy in the French and Spanish languages that will resonate with the audiences; including social posts, ads, and subtitles for video
Optimising imagery and videos while accounting for cultural factors
Responding to and engaging with the French and Spanish target audiences
Budget plan for boosted posts and social advertisements
---
Results
All of our efforts are to drive cinema sales for 3D tickets for the movies RealD has in cinemas. However, because purchases are made through each cinema's website, we are unable to see any conversion tracking.
To measure the performance of our work, we look at engagement measurements such as link clicks, post and page engagement, followers, likes, etc.
Compared to the previous 28 days, in the first 28 days of work we have seen:
France
Page views increased by 70%
Page likes increased by 432%
Post reach increased by 103%
Page followers increased by 102%
24.52% engagement rate
Spain
Page views increased by 106%
Page likes increased by 2,088%
Post reach increased by 516%
Post engagement increased by 233%
Page followers increased by 2,113%
---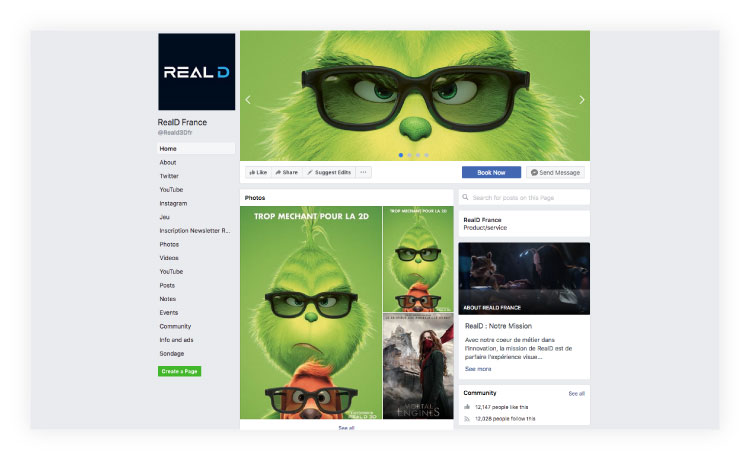 Conclusion
We are extremely excited and proud to be working with RealD. Work is going smoothly with plenty of room for growth in each territory. Our carefully thought out social media plan, coupled with the exciting and entertaining content of the film industry, is a recipe for success.
We expect to see engagement, and therefore brand awareness, take off in France and Spain in the coming months. We are very excited to see what the future holds with this client!
---
Our tailored content and social media postings are not only specific to your audience, but also recognise various holidays and trending topics, helping your brand communication to create timely, intimate responses from your audience, boosting engagement & awareness.
French Marketing
Here at ExtraDigital, we provide a range of French Marketing Services that will help your business identify and engage with your target audience. Our team of in-house French speakers, including a native French speaker, create compelling content that respects French language styles and customs.
Spanish Marketing
At ExtraDigital, we know that the cultural factor plays an important role when marketing your business overseas. Our in-house native Spanish speakers can help you create marketing plans that connect with the people your business needs. Ready to join the fiesta? Give us a shout!
---
Our experience is not limited to just French and Spanish. To find out how ExtraDigital can help your brand engage with potential customers abroad and open up new opportunities from un-tapped markets, head over to our Multilingual Services page.
Alternatively, complete the form below, and one of our experienced staff will be in touch.
---