---
Supreme Pet Foods are the experts in creating nutritious foods, snacks, bedding and accessories for small animals.
From Guinea Pigs to Chinchillas, Supreme offer a range of scientifically engineered foods that offer all the vital nutrients and vitamins to ensure pets can lead a happy, healthy life.
Supreme Pet Foods approached ExtraDigital with the wish to create a new Facebook Page dedicated to their growing French audience. ExtraDigital were tasked with the creation of the page, ongoing management and content creation to ensure increased brand awareness and above all, a high level of engagement on the page.
The team at ExtraDigital conducted specific research into Supreme's French audience, identifying potential personas and new audiences that the content should aim to engage with. Learning more about the Supreme Pet Foods brand and product offering enabled us to create a range of post that would help promote their products. However, to help bolster engagement we needed to create more intimate posting that would engage with our audience on a human level, improving the changes of likes, comments and shares.
This approach has seen some fantastic results. By keeping the ratio of product based postings at a low level our audience are more responsive when this type of post appears. We have seen a high level of engagement on both post style, with the more familiar, sociable post garnering the most attention.
---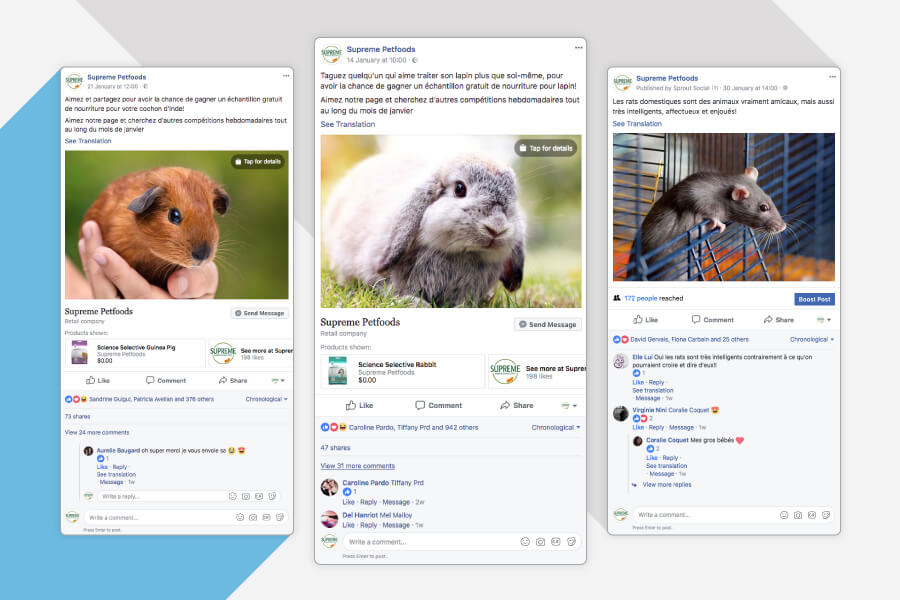 ---
French Social Media Results
Over the past six months working with Supreme Pet Foods, ExtraDigital have created a channel that has a highly engaged network of followers, whose contributions to the page in the form of shares, comments and image comments has helped raise the profile of Supreme among their target audience.
60%
Increase in Facebook Page Likes
70k
Impressions in the past 6 months
8k
Post Engagements in the past 6 months
---
Summary
Supreme Pet Foods were able to increase brand awareness & audience engagement with assistance from ExtraDigital, who provided a cohesive strategy that was tailored to Supreme's needs and their target audience.
The results show the benefits Facebook Marketing can have...
Cultivate an engaged audience
Increase Brand Awareness
Enhance traffic to websites
Directly interact with potential clients
The team at Supreme are very happy with the work and level of service from ExtraDigital, and have recently enquired about the potential to replicate this work for a German audience. A prospect we are very excited about.
---
French Marketing Services
Here at ExtraDigital, we provide a range of French Marketing Services that will help your business identify and engage with your target audience. Our team of in-house French speakers, including a native French speaker, create compelling content that respects French language styles and customs. Our tailored content and social media postings are not only specific to your audience, but also recognise various holidays and trending topics, helping your brand communication to create timely, intimate responses from your audience, boosting engagement & awareness.
Our experience is not limited to the French language. To find out how ExtraDigital can help your brand engage with potential customers abroad and open up new opportunities from un-tapped markets, head over to our Multilingual Services page. Alternatively, complete the form below and one of our experienced staff will be in touch.
---