Here at ExtraDigital we have always maintained a policy of never paying for links to websites, all of the backlinks that we build for our clients are organic and natural links. Over the past seven months we have actively been working on steady and positive improvements to the levels of backlinks for one of our clients. Their backlinks have increased by 514% in seven months, that's an increase of around 100 backlinks per month.
Below you can see the steady increase we have achieved over the past seven months of search engine optimisation work.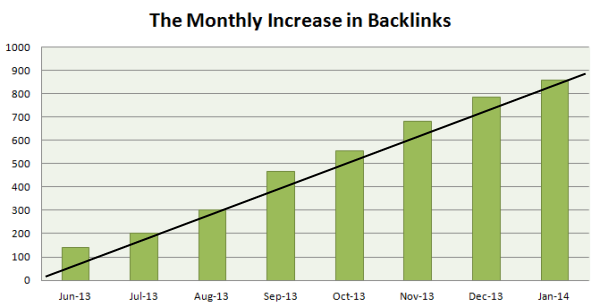 This increasing level of backlinks for this client has seen a knock on effect on the number of visitors coming to their site and the ranking of the site on SERPs. All of which have risen in the same time period. The client is very pleased with these results for their website and has seen an increase in the level of enquiries and leads they are receiving.
What are Backlinks?
For those who are not already aware, backlinks, as the name suggests, are links to the site from external sites. These backlinks help to drive traffic to your site which in turn helps to increase your visitor levels. Backlinks are also very useful for search engines and allows them to see which sites people are visiting for relevant keywords, this helps them to show only the more popular and relevant sites in their search results.
This means that a high level of quality non-spammy backlinks can help see not only your ranking improve but also the level of relevant traffic increase. Increasing the number of backlinks to your site is just one of the many methods that can be employed to help improve the ranking of your website and in turn the number of visits your website receives each month.
If you are interested in organic methods of increasing your site's ranking in SERPs and increase the number of relevant visitors to your site contact ExtraDigital today and enquire about our online marketing services involving search engine optimisation. You can contact us today on +44 (0) 1227 68 68 98 and speak to a member of our team for more information. Alternatively you can find out about more of our success stories on our website by looking at our testimonials, our blogs and our case studies.
Case Study written by Katie Butcher