In January 2014 we were approached by Tile specialists to carry out SEO work on their struggling Magento eCommerce website. Being in the tile industry they were facing high competition online with household brands such as B&Q, but also other large tile specialists.
The Challenge
The challenge was to improve the general SEO of the website to provide them with higher page rankings for industry specific terms and products to improve the level of traffic generated to their website and ultimately increase their online revenue.
Seems simple enough but with black hat tactics carried out on the site by a previous agency which had pushed them back quite far in search engine results, the challenge was a large ask.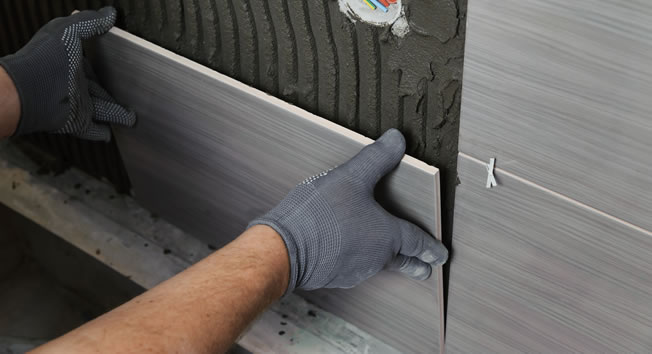 So What Did We Do?
As with all our clients when they first come to us for SEO services we carry out an in-depth audit of their website. This in-depth audit allows us to examine the data and paint a picture of what is happening on the website to date.
It highlights any immediate flaws that need to be prioritised and allows us to develop an initial three month strategy, six month strategy and a long term strategy for its continued growth and to make sure we achieve the aims set.
Over the past year we have been taking the information found in this original audit, and quarterly reviews since, combined with our in depth knowledge and expertise on SEO for eCommerce Magento stores to apply a fantastic SEO strategy to their website. Tasks included on site optimisation, content creation, offsite authority building, the removal of past black hat tactics, technical site enhancements and much more.
How Did We Do?
Below are just some of the many highlights from our work throughout 2014...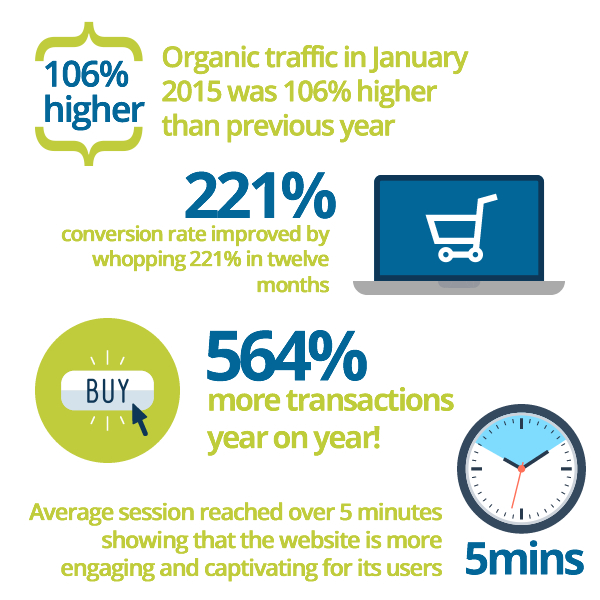 Organic traffic in January 2015 was 106% higher than the organic traffic in January 2014
Bounce rate in January 2015 is now under the average and ideal bounce rate for eCommerce stores (this tends to be higher than the ideal bounce rate for non-ecommerce websites due to the fact that eCommerce stores are prone to people browsing and price comparing by nature)
Average session duration of an organic search user reached over 5 minutes showing that the website is more engaging and captivating for its users
On top of these figures, theCommerce conversion rate for this tile specialist improved by whopping 221% in twelve months!
Which then lead to 564% more transactions year on year!
These improvements exceeded all of our expectations and our own objectives, pushing the boundaries of what we thought was possible in such a time frame. As you can see from just a fraction of the results above we achieved the challenge set with careful and diligent SEO work to ensure that there was a healthy, result for this company.
How Can You See These Results?
If you have a website in the tile industry or any eCommerce industry then we can help achieve results like these for you. We have a vast amount of knowledge and over a decade of experience in online marketing and SEO to apply to your business in your industry.
For more information on the types of SEO services we can offer you, simply contact our team today on +44 (0) 1227 68 68 98 or fill in an enquiry form today.