After designing and building a shop on the Magento eCommerce platform for an online gifts retailer specialising in photo frames, ExtraDigital were asked to begin search engine optimisation work to boost traffic to the shop and improve revenue for the business.
SEO for Gift Shop: Approach
After a full keyword analysis and examination of the conversion potential of the current online shop, we used our experience with eCommerce SEO to begin work improving landing and product copy and other content in order to build on the success of the initial design and further optimise the shop for natural search.
Optimisation for long tailed, high converting product keywords using improved product and landing page copywriting
General SEO theming of the website for the broad phrase "photo frames"
Category level SEO work both on and offsite for broad phrases such as "wedding photo frames" and "birthday photo frames"
Improvements to meta data copy to improve search clickthrough rates
New site features including social integration, a new payment services provider and animated homepage banners used to increase conversion potential by improving the perception of the website to visitors
Seasonal keyword analysis used to drive traffic for particular product ranges in alignment with consumer demand for particular gift markets
Offsite SEO work was included alongside onsite work in order to grow domain authority using sustainable and high value inbound link development.
Creation of authority "brand neutral" marketing sites on gift giving and home decoration ideas
Content development to produce high value inbound links
Social media setup, branding and maintenance to assist in SEO progress as well as provide additional product referral traffic from visual platforms
SEO for Gift Shop: Results
The graph below shows organic search traffic growth over time (exact figures are not shown to preserve client data confidentiality). Click to enlarge.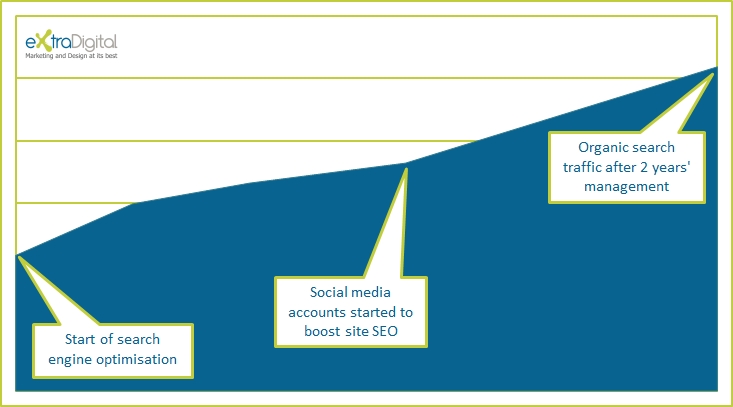 The graph below shows revenue growth for the photo frame gifts shop for the duration of natural search marketing work (exact figures are not shown to preserve client data confidentiality). Click to enlarge.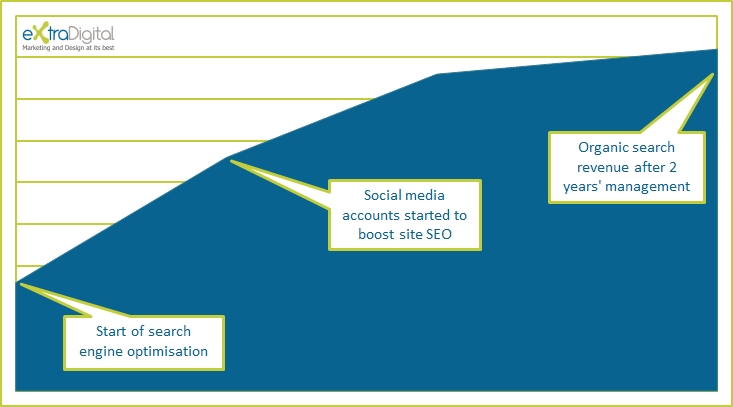 Typical results for any given month include (figures taken from real client data):
72% year on year traffic growth to the website
88% year on year website revenue increase
8% year on year increase in website eCommerce conversion rate
56% year on year increase from referral traffic, including social sites
If you are looking for sustainable and effective growth for your online gift shop, Extra Digital's SEO services, sector familiarity and design and development assets can help you realise significant growth in revenue, traffic and business brand. Contact us today to find out more, get a free website SEO review and find out how we can help you grow your online gifts business.