One of our clients, who would rather not be named, is a world leader in automated testing for mobile and web applications.
When ExtraDigital took over their PPC management back in February 2019, the initial aim was to increase leads and improve their lead quality through pay per click campaign. Through our continuous management and optimisation, the client saw some incredible results last year.
Impact of Covid-19
Covid-19 brought big opportunities for cloud-based companies that offer a software solution for DevOps, our client being one of them. The recent growth in demand for different automation software solutions combined with low competition and our optimisation efforts has led to our client experiencing a steady month on month increase in the number of conversions, and a dramatic fall in cost per lead.
Results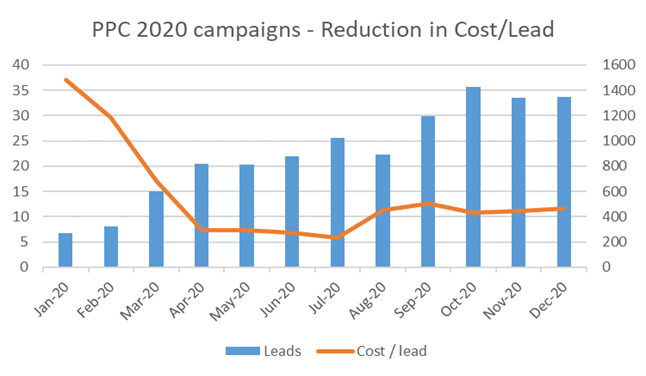 With continuous monitoring, collaboration with the client, and consistent suggestions on ad copies, landing pages, and offers used, we saw huge improvements in the key KPIs over the last 12 months; the number of conversions increased by +396% with 96% of them being trial leads, a massive 70% reduction in cost per lead and 300% increase in the number of clicks.
---
+396%
growth in conversions
-70%
reduction in cost per lead
---
The brand in questions is one of ten brands we manage for the client, and one of many examples of how ExtraDigital has helped businesses within the software industry grow through PPC campaigns.
To get the best results through PPC campaigns, we at ExtraDigital strongly believe that day to day management, consistent monitoring, and reacting to the latest trends is highly crucial. In addition to this, other factors such as bid and budget management, ad copy and landing page optimisation, keyword research, and A/B tests are vital components of a successful PPC campaign.
Looking to grow your business through PPC campaigns? ExtraDigital PPC experts can help! Call us on +44 (0) 1227 68 68 98 or simply complete our enquiry form below.
---