PPC Case Study: Increasing Website Sales
ExtraDigital started providing PPC services to Sheet Music Direct in August 2011
In just one month, Sales doubled and the ROI was up by 65%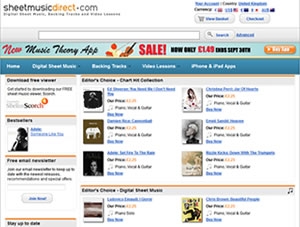 PPC Client
Sheetmusicdirect.com is the leading digital downloads service for musicians. They wanted a PPC Ad campaign to increase sales and boost their return on investment from online advertising.
PPC Objective
The PPC campaign objective was to increase the number of conversions and improve sales of digital sheet music, downloadable backing tracks and video music lessons from the website.
ExtraDigital PPC Approach
To manage the PPC campaign for this online shop effectively, ExtraDigital undertook
A comprehensive review of the PPC campaign including running reports followed by performance analysis
Daily monitoring and PPC optimisation
Various bidding options tested on some campaigns
New campaigns created and new products added
New ad copies added and existing ads improved
New destination URL's tested
ExtraDigital PPC Results
All major KPI's for the AdWords campaign were considerably improved
ROI up by 65%
Conversion rate up by 27%
Number of sales doubled
Total sales value increased by 127%

Effective PPC management will give significant increases to existing campaign performance and the increased revenue from PPC campaigns will be significantly more than the PPC management fee.