The Client
UFC Collectibles is the new, official home of UFC Memorabilia. We have introduced the client in a previous case study, check it out! Alongside SEO wins, we wanted to share some recent Paid Social successes for the new start-up.
UFC Collectibles was launched just after Christmas. We set one brand awareness ad live from the launch date, however, March is when we turned up the heat on our paid social strategy.
The Strategy
Brand awareness continually running
As UFC Collectibles is a new website, our primary focus in the first six months is to get the brand name out there so every UFC fan knows they can purchase UFC memorabilia at UFC Collectibles.
Macro & micro-campaigns around events
There is a lot of buzz in the UFC world around upcoming fights and immediately after. Fans are more inclined to buy around these times; we recognised this as an opportunity to incorporate into our strategy. For every event, we run a pre-and post-event ad; how long we run these depends on the event's popularity.
Continually testing asset types, targeting, and messaging
As UFC Collectibles is a new website, we are still in the testing phase to see what works best for the UFC audience. TBH – we recommend never stop testing, but at the beginning of working with a client, this is especially important! From every test, we learn and further optimise the campaigns.
The Results
Over the first four months of our paid social strategy, we have seen:
108% increase in monthly paid social revenue.
246% increase in monthly users visiting the site from paid social.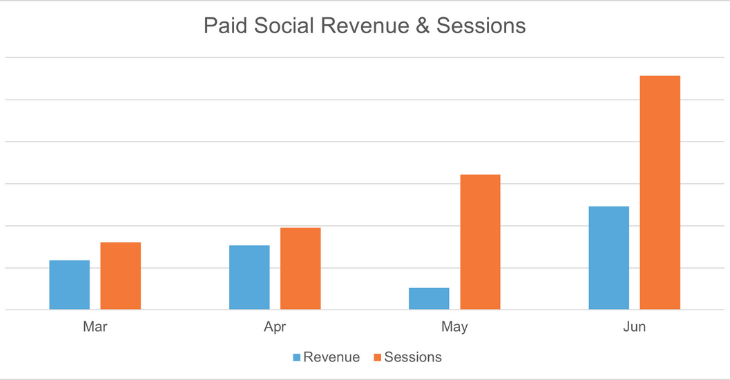 What's next?
Remarketing
We usually suggest a remarketing campaign to be one of the first set up as it can be very effective and profitable. However, to have a successful remarketing campaign, you need to have a certain level of traffic through your website, so for a new website, we advise waiting a few months.
Now that UFC collectables have been live for six months and we have had the brand awareness ad sending traffic to the website, we are in the midst of setting up a remarketing campaign to help move customers along the buyer's journey.
Stay tuned for more updates!