ExtraDigital has been working with Beach Cafe, a successful online eCommerce store selling a wide range of beachwear and swimwear, since 2014, when we designed, developed and launched their new Magento website.
You can read more about the success of this new Magento website for Beach Cafe here with our case study entitled 'Huge reduction in bounce rate for eCommerce fashion store'.
Over the last two years, we have been working with Beach Cafe to help maintain their website and provide them with assistance where needed.
In 2016, Beach Cafe was ready to take the next step to cement its position as an industry leader in their beachwear and swimwear sector. That step was to create a version of their website in an additional language to allow them to reach more customers.
After careful analysis of their current customer locations, it was decided that their first alternative language store was to be German.
Developing a Multilingual Website
Here at ExtraDigital, we have worked with a number of companies in a variety of industries, assisting them in setting up and maintaining eCommerce stores in a multitude of languages - including French, Chinese, and Arabic amongst others.
To help develop a German version of the Beach Cafe eCommerce store, we worked closely with native German speakers to ensure that the message and tone of the Beach Cafe website continued into their new German store.
This close relationship ensures that whether you are an English speaker using the Beach Cafe website, or a German speaker using the Beach Cafe website, you receive the same great user experience.
The Results
The result of this work is a beautiful Beach Cafe website in the German language ready for all of their German-speaking customers to use and a very happy client.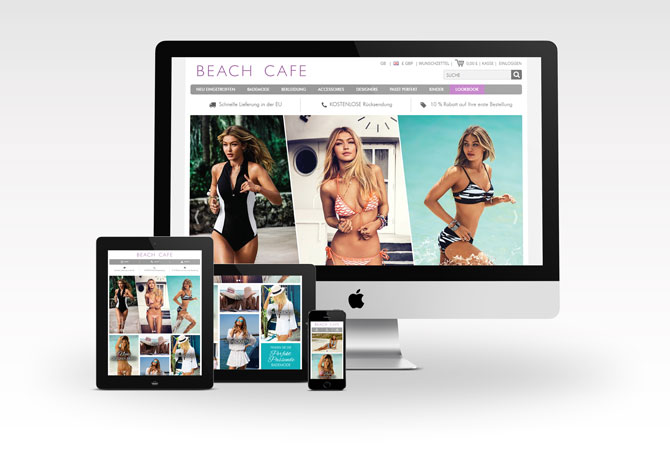 Check out the new Beach Cafe German website for yourself here at www.beachcafe.com/de/.
How to Get These Results
To improve the reach of your website, then why not develop your website in different languages to remove barriers to your site.
Contact the team here at ExtraDigital today on +44 (0) 1227 686898 to find out more about our multilingual expertise and how we can develop a multilingual website for your company.
You can read more about our multilingual developments on our website. Just some of the languages we work in can be found below.