Bambini Fashion is one of Europe's largest brick and mortar luxury children's fashion retailers, with over 70 years of experience in the children's fashion industry. It aims to make luxury affordable for customers by creating a unique sense of shopping in-store as well as a reliable, safe and quick experience online.
With flagship stores located in the most stylish and exclusive neighbourhoods in the heart of Vienna's historic first district, as well as over 100 designer brands and outstanding personalised services – it is easy to imagine why Bambini has become a lifestyle destination over the years.
However, Bambini's vision is to appeal to a wider global customer base to continue to inspire and surprise the children's fashion industry worldwide. With that being said, the Middle East was an obvious market to target next.
ExtraDigital were approached to provide Arabic SEO and translation services. The aim is to introduce Bambini's new Arabic website to search engines and capture the Arab audience's attention.
---
Work Done
With existing clients already targeting the Middle East, and based on our experience with Arabic audiences, an SEO strategy was promptly put together for a smooth sailing operation and best results.

Main Pages
The Homepage had to be fully optimised for Arabic visitors first. Then we worked on the main category and product pages completing English-Arabic translations and SEO work.
It's important that visitors feel like the site truly caters for them in terms of language and feeling so the translation was not just a direct translation, but one considered the audience as well. The optimal user experience is essential when appealing to a new audience.
---
FUN FACT: A common behaviour amongst online Arabic users is spelling phonetically in Arabic letters. This is mainly the case when spelling proper nouns e.g. Gucci is spelt as قوشي. Common nouns can be also spelt this way e.g. outlet is commonly spelt as آوت لت.
---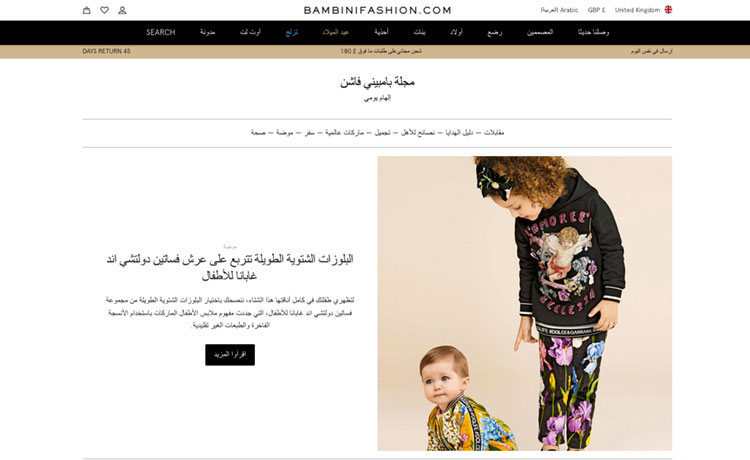 Blog
Very little Arabic blog content existed on the site when we started this work. This was understandable as it's a new, Arabic ecommerce platform.
So, whilst optimising the main pages, we've been busy creating engaging content and populating the blog with trending hot topics for our Middle Eastern audience.
And yes, the blog is vital to SEO.
Results
After just two months of work, we were able to demonstrate significant improvements in ranking - with ten of the target keywords improving an average of 34 positions and half of these keywords gaining page one rankings. These improvements were on very competitive important keywords such as designer names and generic search phrases such as "girl's clothing".
This demonstrates the effectiveness of SEO for ecommerce in the fashion industry. Arabic SEO is one of our core Arabic marketing services.