ExtraDigital were approached to produce an Arabic version of their website. The British Museum were in the process of creating pages in other languages, but their website CMS did not support arabic characters very well, with particular difficulty in the menus and navigation.
ExtraDigital produced the Arabic website with over 100 pages in Arabic, based on a range of different page templates. The website was colour coded by section and this was replicated in the arabic version. Much of the design layout was reversed to cater for the right to left language. Some styling needed changing to cope with arabic words and lettering which tends to be longer than English words.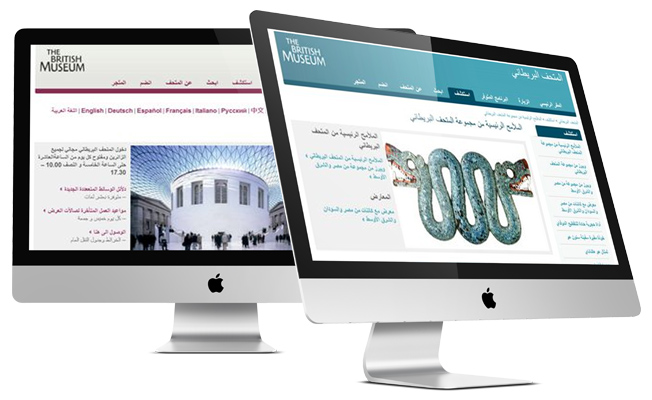 Challenges
When developing arabic websites, the right to left direction of the language affects the design. Considerations on the location of the logo and navigational components needs considering, and there is considerably more work than simply exchanging one set of copy for another.
The Arabic typesetting is a different shape to Latin based languages such as English. Words tend to be longer and the lines smaller. It is usual to increase the font size to make legible.
The British Museum website also uses a specialist vocabulary, with historical and archaeological language being needed on the exhibit pages.
Large scale – there were over 100 pages created in a variety of different templates. Efficient project management process was used to keep track of translation versions, images and the pages produced. Not all pages from the English site were used, so menus needed adapting to suit the arabic site.
Further work
In 2012 the British Museum updated their website design, so ExtraDigital upgraded the arabic version to match.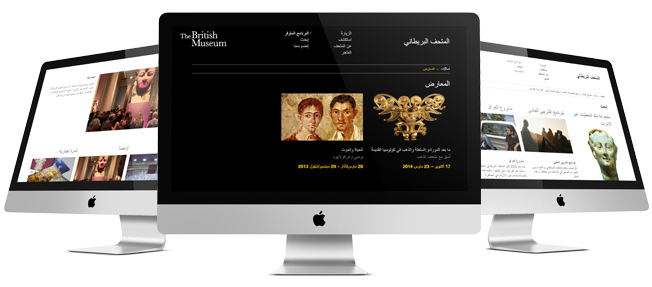 The new website was very image rich which gives a good visual appearance. However this can cause the website to load slowly. When making the change ExtraDigital put considerable effort into ensuring a fast page load to give the best possible visitor experience. Verification with 3rd pasty testing gives this website an A rating on both the commonly used metrics of page speed.
ExtraDigital maintain the arabic content, uploading new exhibitions as needed. Examples of this include exhibitions on the Haj, The Horse, Shakespeare, Pompei., The Ice age and El Dorado. We are now provided with the translations, to maintain consistency with other Arabic material produced by the Arabic museum, but ExtraDigital's arabic speaking staff can deal with any typos or missing text.
ExtraDigital have produced over a dozen different Arabic language websites, and have natural Arabic language speakers within both their design/development and marketing teams. The multilingual ExtraCMS copes well with the Arabic language, including arabic search, and is now used by a growing number of Arabic websites.