The Supply Chain Consulting Group is the new name for Go Supply Chain and Gideon Hillman Consulting which merged in July 2018 and is established as one of the leading, UK based, Supply Chain and Logistics Consultancies operating in the UK, Europe, Asia, Africa and the USA.
SCCG Supply Chain and Logistics Consultancy
Based in the UK, The Supply Chain Consulting Group (SCCG) team of specialist consultants supports clients with UK Logistics Network and Supply Chain projects for major clients in Grocery and non-grocery FMCG, Retail, Utilities, Construction and Manufacturing sectors.
Research from the Office for National Statistics (ONS) into website platform usability and interactive interfaces, shows that having an engaging website in 2019 is an almost mandatory must. Taking this into context within the logistics consultancy services sector, spurred SCCG to research a team to consolidate their existing websites and develop a sustainable and engaging online platform to continue to promote their brand and services effectively.
After a diligent research and tender process, the SCCG team chose the ExtraDigital team of experienced digital marketers and SEO Specialists to design and migrate their websites to successfully continue their now single brand strategy.
Objectives
The main objective of this project was to consolidate the knowledge, expertise and reach of an established and experienced group of professional Logistics Consultants and Supply Chain Specialists across a range of industry sectors, within one website.
An ISO 9001: 2015 company, SCCG specifically required a website to run in-line with their required company regulations to provide clients with a fresh new platform upon which to find out more about their company, the services they offer, the clients and companies they have worked with, and testimonials from their key clients.
SCCG required the site to be accessible via mobile and cross-device browsing. Adhering to this, the ExtraDigital team worked to ensure that the new SCCG site promotes a combination of high-quality attention to detail and expertise, as a recognised member practice of the Institute of Consulting, to best represent the wide range of services which the SCCG team continue to proudly provide.
Intending to improve the user interface experience of browsing and research into SCCG's services, the ExtraDigital team worked hard to deliver a new website which maintains the company's recognisable positioning as a dependable, trustworthy and experienced service provider within the Logistics and Supply Chain Industry - to both new and existing clients alike.
One mandatory prerequisite for the SCCG team website was show-casing their company news, services pages, featured articles, case studies, and testimonials. ExtraDigital ensured that the new SCCG site serves not only as a brochure of SCCG's skilled services; but more importantly as a diligently curated visual portfolio of their work, including videos, and customer testimonials, amongst other content.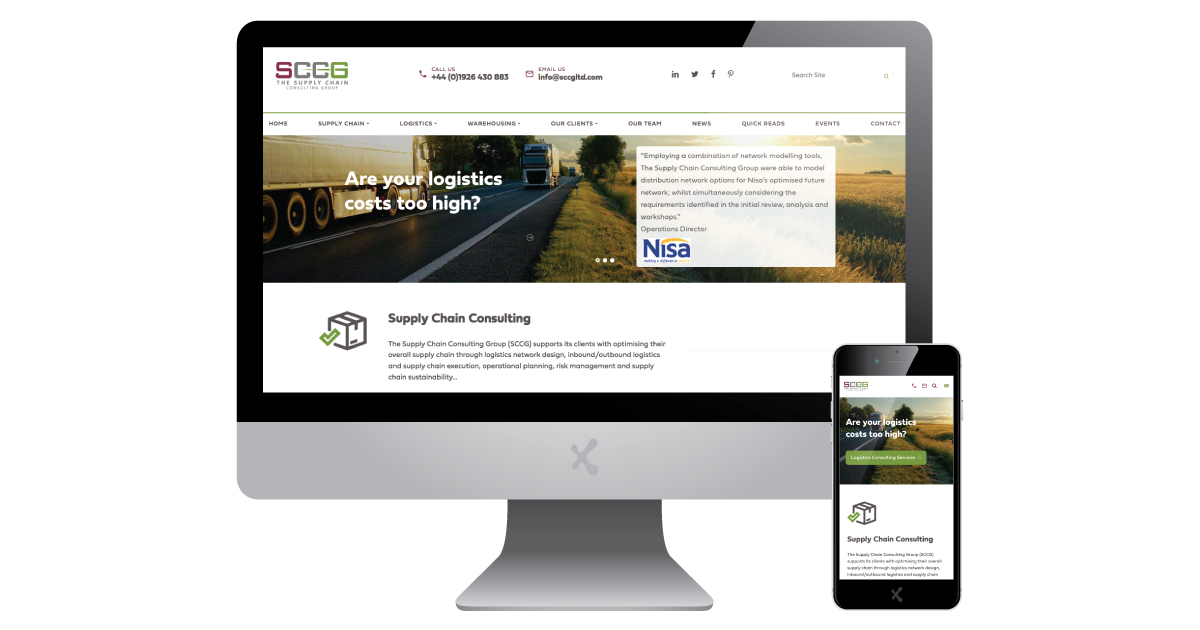 Results
Alongside their successful website launch, July 2019 saw SCCG simultaneously celebrating their successful first year anniversary of trading under their new brand name: 'The Supply Chain Consulting Group'.
"2018/2019 has been a terrific first year for the SCCG team, and we are delighted with the professional look, feel, and performance of our new website; not least the reaction from staff and clients alike. Having already experienced an increase in website traffic and online enquiries through the new site, whilst noticing a subsequent definite recognition and growing awareness of our brand; SCCG are now preparing themselves for another thoroughly enjoyable and eagerly anticipated, busy year ahead."
Gideon Hillman
Director
SCCG
---