The Canterbury Food Bank is a charity local to us with a vision of 'Caring for local people in crisis' and we're proud to have redesigned their website to ensure they are optimising their online presence to achieve this charitable mission.
---
The Client
The Canterbury Food Bank has a simple mission, to prevent and relieve poverty or financial hardship within the Canterbury Council District.
They do this essential work by providing emergency food parcels, items, services and facilities to anyone in financial need. They even cooperate with other charities and charitable organisations across Kent to further extend their mission.
They are incredible right? In order to achieve better results with their website, however, they drastically needed a complete website makeover. Which is precisely what we did…
---
What we did
Despite having an existing website, the performance and usability for viewers were not up to scratch for what The Canterbury Foodbank needed. We advised and agreed that the best platform going forward would be WordPress as it is easily edited and has access to a wide range of plugins and extensions suitable for the charity.
The original site was a sole page with all information displayed, resulting in the content becoming crowded and not as user friendly as desired. Through designing the new site with dedicated sections, future SEO is easier to accomplish if the charity wants to pursue it.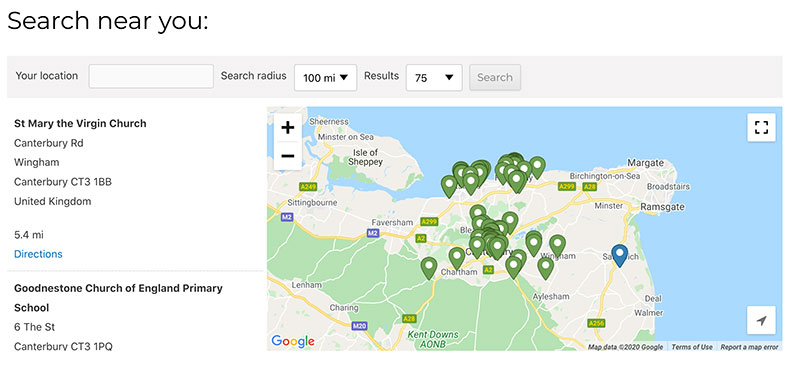 With it being essential for the public to be able to drop off food supplies to approved points, using Google Api allows for us to include an interactive map showing your nearest food donation points.
Additional to this, we included a contact form plugin allowing for visitors to discuss donating large amounts to the charity. It means that no matter the size of the donations, all users can find a way to donate.
Raising awareness and engagement of the charity is critical for encouraging repeatable donations. Adding in a live social media feed to the home page shows users they regularly update and thus a good platform to keep updated on the charities work.
One significant improvement to the site was the inclusion of the referral contact, which has revolutionised their operation. What was once a downloadable document to give to the charity, a plugin allows for the charity to create a database streamlining the process.
It also streamlines providing the referral, ultimately leading to a more convenient method for those in need of the charities help.
---
The outcome
Despite being live for only a week, the website has already had tremendous success; it was developed by our skilled and creative team who worked diligently to meet the charity's needs and expectations.
We even managed to do the work with a hefty discount too!
The new functionality far surpasses the prior site and it has greatly enhanced the user experience resulting in users having a positive relationship with the charity. Here is what they had to say:
"We are delighted with our new website. The process from start to finish with ExtraDigital went very smoothly, with great communication throughout. The UX on the site is vastly improved and many of the agencies we work with have already commented on how much easier the process is. The charity would highly recommend anyone else looking for a new website".

Angela Gardiner, Coordinator
Canterbury Food Bank
We understand that not everyone has our knowledge and expertise; it is why we left a web use guide with easy instructions on editing and adding content to the website. In doing so, the charity can continue publishing about their vital work and feel reassured they are using a specialised site.
---
Is your website in desperate need of a redesign? Are users not leaving satisfied and content with what you are showing? Could you benefit with the improvements we've provided here?
Get in contact with us today to see how our experience and knowledge can design, create and implement a worthy website today.