Speak English Online is an online educational website with more than 16 years of experience; they provide lessons in English for a variety of ages in an interactive, efficient and convenient method. When they first came to us they had a website that only worked with Flash which was not effective in getting the hits that they required and also did not work with the software that they used to teach, therefore limiting the business and any potential expansion.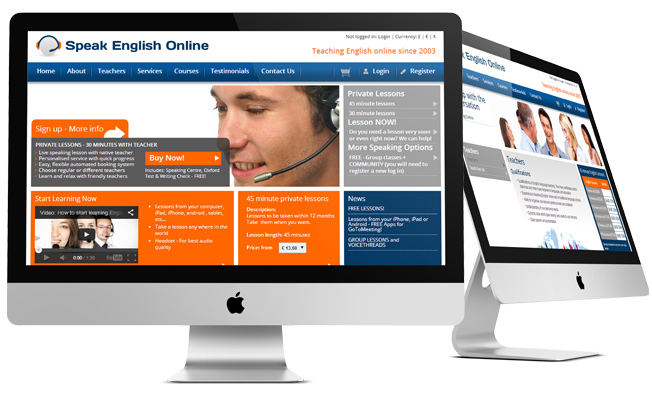 As part of the website redesign we also rebranded the logo to give it a friendlier feel and also introduced a new colour palette. This met the main goal of the new website; it needed to show what courses were being offered and to get an increase in the number of sign ups. The creation of a website banner at the top of the website helped to highlight the courses and a clear and prominent call to action signs on the right of the website where it would catch the eye.
At ExtraDigital, we ensure that all of the websites that we design, or redesigns, are well-designed and effortless to use. The website itself is also search engine friendly and clearly communicates the message of Speak English Online. The client is very pleased with the design of their website and the ability that it gave them to improve their service and their lessons. They have since seen an increase in the number of visitors to their site and indeed the number of students that they have taught over the years.
You can view this website design and many others that we have created over the past years on our website in our portfolio. On our site you can also read the many testimonials regarding our services and work quality that our clients produced. To find out more information about website design and branding services that we can offer, simply contact a member of our team on +44 (0) 1227 68 68 98 today.