This leading retail consultancy division had been without a website for a long period of time and needed to restore a strong online presence. The site needed to reflect their professional, corporate nature and emphasise the leading position of the firm in their respected field.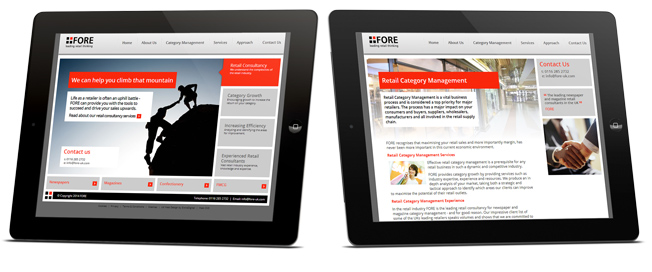 Retail Consultancy Web Design: Approach
We carried out extensive market and keyword research to ensure a website that was search engine optimised from the code level up. Our research gave us insight into the retail consultancy sector to better enable us to produce compelling, optimised copy. The client provided a logo designed by a third party as a guideline for the branding and new design.
Extensive keyword research around retail consultancy and category management to optimise website at the code and initial content level for relevant key phrases
Selection of imagery appropriate to the company and target market
A comprehensive draft design portfolio of six designs produced showing variation in each design.
Consultative meetings and initial design presentations to present research and analysis into desired aims and objectives of the retail consultancy website.
Copywriting of 18 optimised pages with relevant imagery on the ExtraCMS
Development of interactive infographic as an innovative way of displaying information.
Retail Consultancy Web Design: Results
These are captures taken from the finished website when it went live, showing the main homepage design, inside page and Fore infographic.
Fore Infographic:
Here are some of the other designs produced as part of the initial draft design portfolio.
ExtraDigital offer a comprehensive corporate marketing website design service for a range of businesses and industries. For more information, check out our range of website designs or contact us today to get an initial, free website review and find out how we can bring your business to life online.