ExtraDigital were approached by long term client of ours, Coaching for Change, earlier this year to improve their existing website to a New Responsive Webdesign as it wasn't keeping up with their future plans for the company and their vision.
The Client
Coaching for Change are an organisation in the consultancy sector who coaches, trains and mentors individuals to help them become leaders, innovators and to apply a culture of continuous change in their companies. On top of this they also work with large multinational companies such as Toyota, Vodafone and Airbus to improve their own systems and practices based on principles such as lean six sigma and their CLAW 360 tool.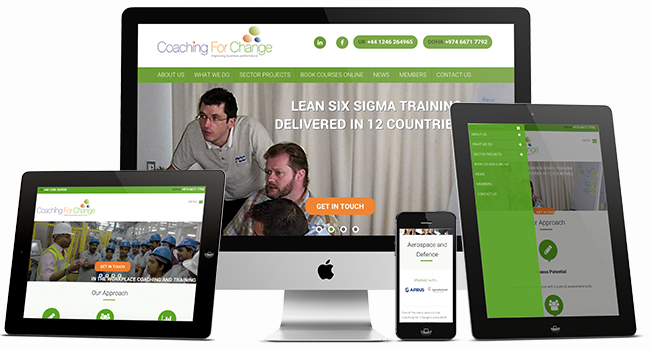 The Project
This project's purpose was to recondition their existing website with a more modern and interactive website that would appeal to a larger audience and most importantly provide all their users with a high quality and beneficial user experience, no matter what device they viewed the website from.
We did this by redesigning the website to give it a fresher and sleek design that really highlighted the services that they offer and their knowledge as change consultants. The design was created after much consultation with the client and with mobiles first in mind to ensure that the website that was delivered was responsive to the devices that the website was being viewed on.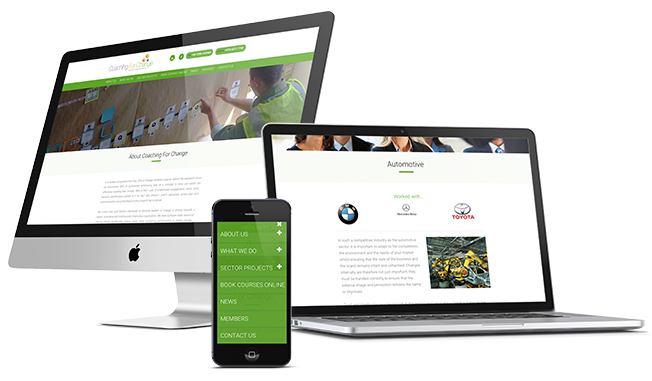 Making the website responsive meant that a customer of theirs viewing the website from their mobile would be able to use it just as well as a person using the website from a desktop. The website now responds to the changes in screen sizes and is now able to adjust its layouts, font and calls to action appropriately. Giving every client the best online experience with Coaching for Change.
The Outcome
The website was successfully designed, built and developed by our in-house team of designers and developers to match the client's exact specification. We were able to integrate in all of the functionality from the existing website but display the content in a much better and easier to read way. On top of this we really worked on providing elements of interactivity on the website to really catch people's eyes and make the website more appealing to use.
The results of this new website speak for themselves, since the website went live in June 2015 traffic is up and the bounce rate is down year on year. On top of this the average session duration has increased by a huge 20% when you compare with the session duration from the same time in the previous year which is showing that the website is much more engaging to users and that people are really taking the time to find out what Coaching for Change can offer them.
They have also seen in just one month 33% more contact form completed on the website year on year which highlights the big improvements that simply having a responsive website with a great user experience can do for the conversions that your website sees.
How Can I Get These Same Results for my Website?
Getting these kinds of results and more for your website couldn't be easier. Simply contact our team today on +44 (0) 1227 68 68 98 and enquire about improving the user experience and design of your website.
We have a full team of in-house designers and developers that have the knowledge and experience to create something you can be proud of that actually converts your visitors for more sales and more leads. You can see some of these past designs and work in our Portfolio so make sure you check them out today.