This London property acquisitions specialist wanted a marketing website designed in both English and Arabic along with a dynamic interactive map to showcase the regions in London where the company sourced properties. They also wanted social media set up and branded on Facebook to match the look and feel of the website.
English & Arabic Websites: Approach
We carried out both market and keyword research to ensure a website that was search engine optimised from the code level up for a suitable range of key phrases in order to assist with marketing the business on an ongoing basis.
Keyword research around London property acquisitions to optimise website at the code and initial content level for relevant key phrases
End user research and analysis into desired look and feel for a luxury property acquisitions website in London catering to overseas clients
Development of design concept capable of being easily built into both English and Arabic (taking semitic website design into account)
Selection of imagery appropriate to both cultural markets
Adaptation of design concept to social media platform for branding
Writing, translation and localisation of content in English and Arabic
London area research and development of interactive map built using jQuery to be compatible across many browsers and devices
Integration of Google Maps onto the contact page to allow easy location and placement of the company within the London area
English & Arabic Websites: Results
These are captures taken from the finished website when it went live, showing the main design, Arabic version of the interactive map and contact page with integrated Google Maps feature. Click to enlarge.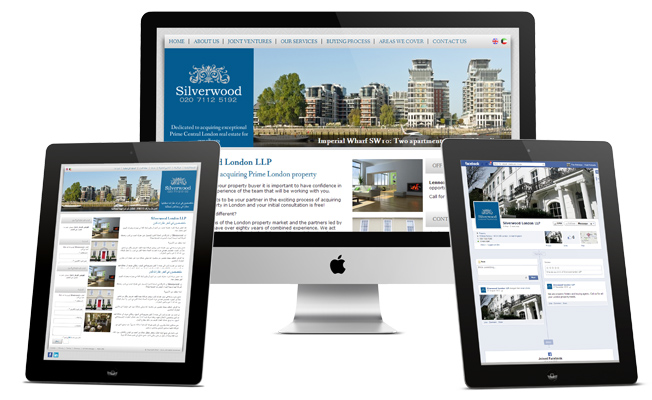 ExtraDigital offer a comprehensive marketing website design service for a range of businesses and sectors. To learn more take a look at our range of website designs or contact us today to get an initial, free website review and find out how we can bring your business to life online.