The Brief:
To redesign the existing Jon Williams Stables site to give the site a fresh look, improve accessibility and user interaction. Make room for the addition of a new product range and give the site an overall less boxy look with more images and less text. A classic looking site was wanted due to client's preference.
What We Did:
ExtraDigital redesigned the site so that it appeared less cluttered, had a good use of white space and a continuous theme throughout the site to help with the branding and presentation of the brand. Additional options on the site and new product lines were also added to create more applicable and relevant content for visitors to the site.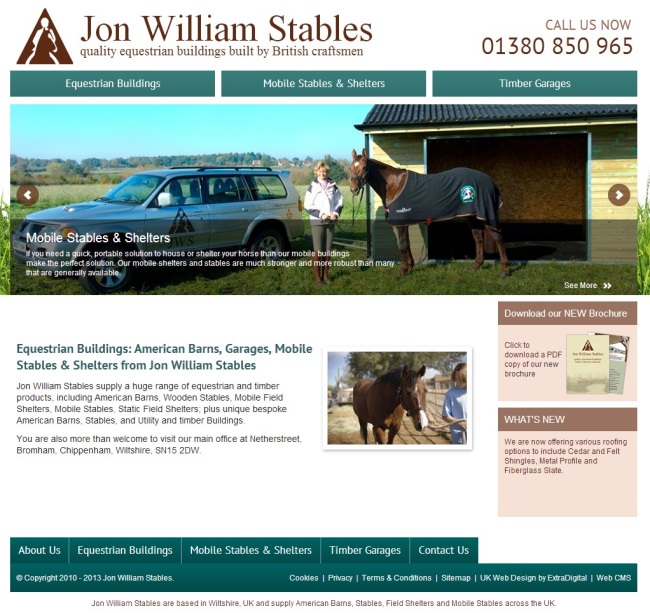 Outcome:
The outcome of the redesign of Jon William Stables is that our client now has a functional, aesthetically pleasing and good value site built with marketing in mind. This means that every aspect of the site was built to be search engine friendly and informative to the user. The client is very pleased with the redesigned site and has seen an increase in visitors to the site and also sales as a result.
Below is some data taken from Google Analytics which shows that since the site went live in the middle of July 2013 the number of non-paid visitors to the site has been increasing steadily and the site is now receiving nearly twice the number of non-paid visitors now than since last November (data correct on date of publish – 18th November 2013).

ExtraDigital offer a comprehensive marketing website design service for a range of businesses and sectors including web design for consultants and businesses. To learn more take a look at our range of business website designs or contact us today to get an initial, free website review and find out how we can bring your business to life online.