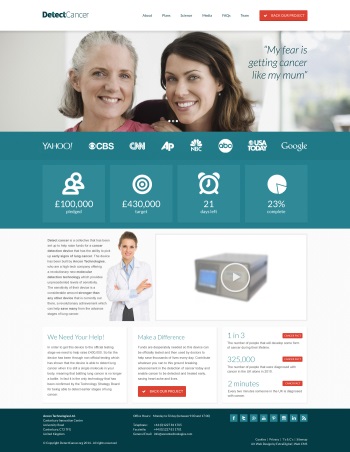 We recently designed, developed and marketed a website for Detect Cancer which was to raise funds for a lung cancer detecting device currently being produced by a local company called Ancon Technologies. Once we heard of their work we decided to work on this project pro-bono and the design and development of the site was completed within two weeks.
This website was needed to provide all the information about the cancer detecting device and how people could contribute to the cause. The clear, clever and inviting design enabled a clear message to be projected from the site and convert visitors to the site to contributors of the cause.
The Design Elements
The design was made up of several elements with eye catching features including prominently displaying the current position of the fundraising efforts below the banner and of course the use of a story within the main banner to attract attention and emotion.
Fundraising Banner Design Element:

Banner Designs for DetectCancer.org:




Design Results
The client, Ancon Technologies, was very pleased with this design work with Wesley Baker of Ancon Technologies stating.. 'I like the style very much and the approach – you have surprised me (which trust me is a hard thing to do as many will confirm in the world of business, but has great benefits for future projects!).'
ExtraDigital often uses its design skills and experience for the benefit of worthy causes, another example of this is the yearly support of the LEJOG run from Land's End to John O'Groats to help raise money for Demelza House. More information about the of support of this cause and other community sponsorship and support can be found on our website.
We have a whole host of design experience and knowledge in house at ExtraDigital. If you would like to find out more about the types of design work we have carried out, feel free to check out our design portfolio on our website. Alternatively you can call our team of in-house designers on +44 (0) 1227 68 68 98 to find out how we can create unique, innovative and creative designs for you and your business.