Private Jet Charter (PJC) has offered the ultimate experience in air charter services for over 30 years. As a global private air charter company, they work all around the world providing a high-quality experience to their discerning clientele.
PJC has been working with ExtraDigital for the past year and we have been supporting them with their aims for growth. As part of that pursuit, it was deemed that their site no-longer serviced the need of the user and did not reflect the modern, high-end air charter service offered by PJC.
ExtraDigital were commissioned to redesign elements of the site to give PJC's online presence the face-lift it deserved and ensure it offered the same luxury experience and conveyed the core values of the brand.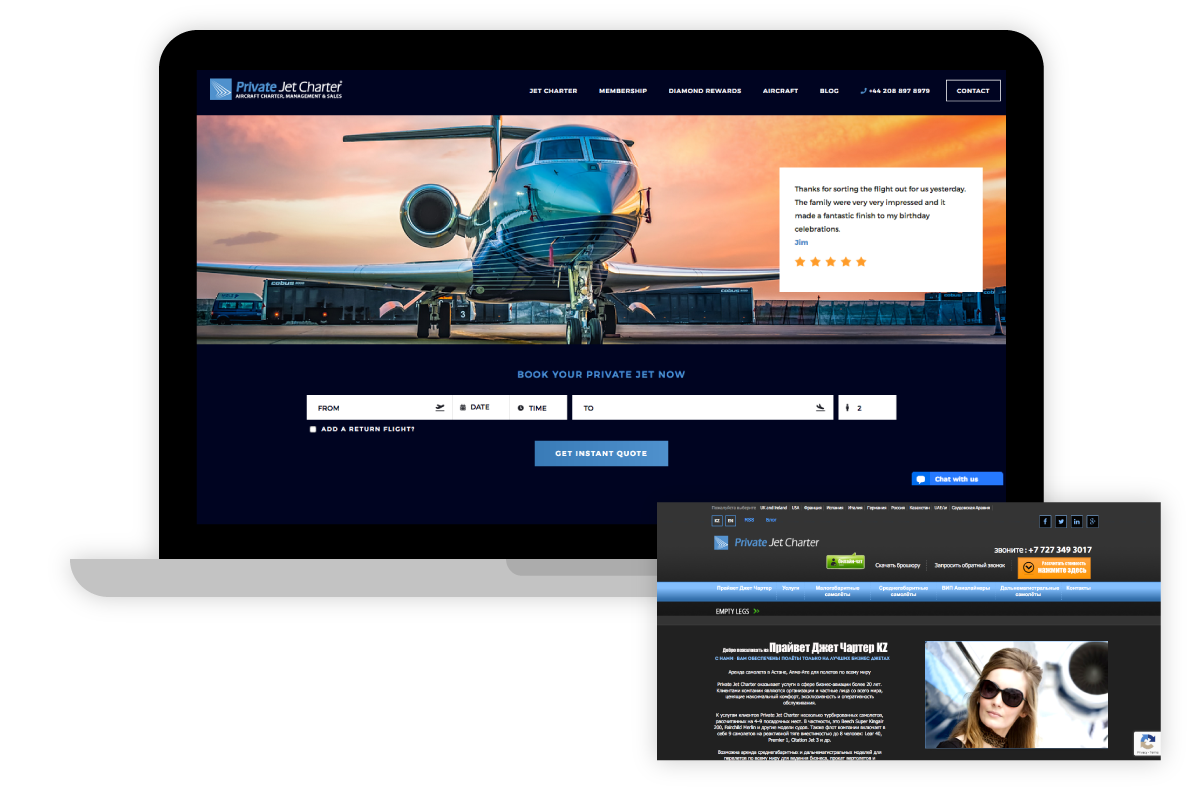 Website Design
Private Jet Charter requires a significant face-lift to convey the luxury air charter service that is offered. The existing site had become dated and was no longer suitable for modern web usage.
ExtraDigital identified the area's required attention as they would be affecting the customer's experience. We then looked to evolve the existing PJC brand to offer a more aspirational aesthetic. The use of strong brand colours, a clean legible font emphasised in a variety of weight and stunning imagery, helped us produce an offering for PJC that has surpassed all their expectations.
Wordpress Theme Development
PJC also required several language sites, which we hard-coded a new WordPress theme for. We took this approach as opposed to using popular theme builder software, to ensure the site remained light-weight and benefitted from streamlined coding.
With each site we build we ensure it's optimised for search at its core, so hard-coding them also meant we were able to bake-in some SEO value, that the alternate options cannot offer.
We chose to implement a WordPress Multisite to house the six foreign language sites that PJC offer to its wider audience. The multisite allowed us to retain the core theme, style and plugins used but alter the content accordingly for the appropriate audiences.
Learn more about our Multilingual work for PJC here
Benefits of a WordPress Multisite
A multisite is a WordPress configuration that enables the management of multiple sites from a single installation. This functionality is built into the core of WordPress and can easily be implemented to leverage the following benefits:
Quick access to multiple sites

Shared themes, plugins and users

Quick configuration for each site

One upgrade for multiple sites
---
If you're looking for a single CMS to manage multiple sites, then a WordPress installation with multisite enabled is a fantastic option. ExtraDigtal are highly proficient in all things WordPress if you're looking at a new project or support for your existing site then get in touch.
---