A website redesign is often necessary to keep the look and feel of your site up to date, rework content or keep the site looking modern. However, when planning a re-design your website, your internet marketing efforts should not be halted as this can be damaging to lead generation and ranking in general.
Here is what NOT to do when considering a redesign: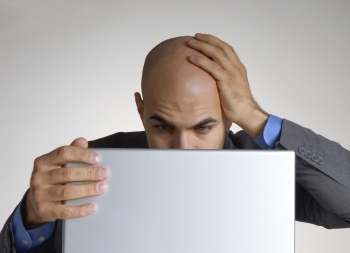 Change URLS - You want to keep site architecture as similar as possible - especially if you have already strived to build plenty of relevant traffic to these particular pages. Unless you can easily update the links to these pages, a general rule is to keep URLS the same. If this isn't possible a 301 redirect is your best bet, but be aware that your links will lose value, which will affect your rankings. Remember, your internal links should also be corrected; a surge in 404 errors with pages not found can cause your site irreparable damage!
Stop blog posts - everybody knows that Google likes sites that are continuously updated. Search engines record how frequently a site is updated, placing more emphasis on sites that are dynamic and displaying the results that provide the most up to date information to searchers. Blogs and articles place on a site are a great way to continuously update a site with relevant, shareable content - hence the reason why they are a great marketing tools.
Your agency may tell you that your blog will have to be stopped for several weeks while the redesign occurs - be wary of this as its very bad practice and can indicate a lack of knowledge on your agencies behalf. The design should always be separate from the content - especially those built on a content management system such as Wordpress or ExtraCMS.
Sabotage call to action - People often ask the wrong questions with redesign projects. A common question is how can we make the site look better? This is not the way to approach a redesign. Think about the design in terms of marketing! You'd be surprised how many people go with a redesign with little or no extra marketing benefit as a result. Yes the design is very important - this is certainly the case with creative organisations, designers, musicians, photographers etc. However, do not sabotage your call to action. For the majority of organisations, the primary aim is to generate sales revenue or leads via the site. Make it easier for a visitor to convert to lead or sale - not harder!
Bad use of staging sites - A common mistake is that you develop a new site on a server search engines could crawl, and they already found all of the content. Now when you release the real site its SEO will be awful because the whole site will be considered duplicate content. Make sure your agency has the correct tools and knowledge to prevent this from happening.
Conclusion
The key to a successful redesign is to ask the right questions and work towards a solution that is better than your existing website - and not just visually! Establish a clear goal for the redesign and map out exactly what needs doing BEFORE you do it. This will help you to plan time scales. Do your research, analyse your analytics to make sure you are not destroying pages that are getting the visitors in.
Keep marketing in mind and aim for a smooth transition with no interruption to your internet marketing strategy as this could prove costly and make take some time to recover from.
For more information about website design and internet marketing, get in touch with ExtraDigital today on +44 (0) 1227 68 68 98.
Article by Michael Alexander