You may have heard about how many businesses are adopting responsive designs as a result in a change in the way their consumers are accessing the internet. A growing percentage of users are accessing websites via mobile and tablet and businesses should be responding to this - adapting their websites to ensure that these users receive the best possible experience.
Why Responsive Design
45% of adults accessed the Internet using a mobile phone or tablet every day. (eMarketer, 2012)

20% of website traffic is coming from mobile devices (Ofcom, 2012)

66% of tablet owners have made a purchase from their device (eMarketer, 2013)
Responsive websites are not all about design, there are real marketing benefits that will increase the efficiency and significantly bolster your internet marketing activities. Our responsive design can provide you with:
Improved usability and customer experience

Tailored content

Consistency of brand across all devices

Reduction in bounce rates

Elimination of redirects
You may be thinking that by the time you have invested in making your website responsive, the fad would have passed. We believe that responsive design is not a bubble and isn't going away soon, so fear not!
ExtraDigital have recently completed a redesign of our own website. The shiny new website was built to be responsive.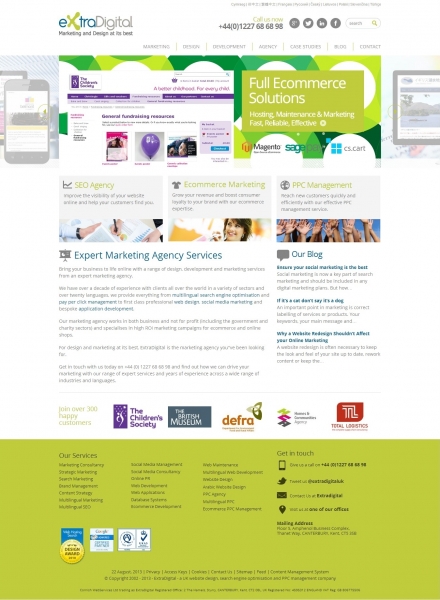 How quickly can we make your website responsive?
The responsive site was professionally redesigned and made responsive with 4 weeks. If you are not building using a template, this is a very fast turnaround time.
ExtraDigital can take your existing website and have you capitalising on mobile and tablets traffic to help your business to generate a higher volume of sales and leads. Get in touch with us today at +44 (0) 1227 68 68 98.