Many web applications are built using a waterfall methodology. It's the traditional way to organise teams to produce a product or outcome or 'get things done' according to the APM. Waterfall methods are rigorously used, in construction and large scale development which requires plenty of planning, documentation and process control. It's even an official government backed regime in the form of Prince 2!
Waterfall Project Management
As the name suggests waterfall is very linear, meaning it is logical, sequential and simple to understand. In a waterfall model, each phase must be fully completed and signed off before the next phase can begin. At the end of each phase, a review is called to determine if the project is on the right path and whether or not to continue or discard the project. In waterfall model phases do not overlap and previously signed off agreements cannot easily be revisited.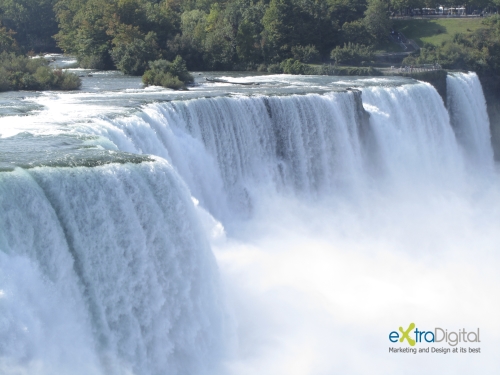 Here is a basic diagram to show how waterfall project management works: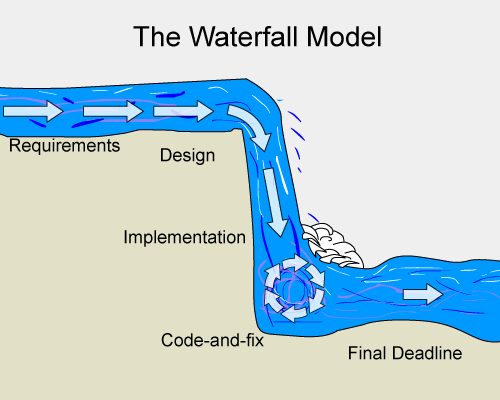 The project team first analyses, then determining and prioritising business requirements / needs. There is generally rigorous document and input in the form of a design brief. Users need to know exactly what is needed for product. This is then locked down and users can progress to the next stage.
Next, in the design phase business requirements are translated into potential web design solutions. Some feedback is given here to refine this stage but design is based on product requirements
The designs are 'locked down' once online layouts have been agreed. The site is then built, code implementation takes place.
After the site is built, it is presented and tested to smooth out any kinks in the implementation stage. It evaluated against product needs by the client.
The last and final stage involves putting the site live on a pre-determined deadline, final evaluation and maintenance, with the latter ensuring everything runs smoothly.
There are several advantages to this type of approach:
Simple and easy to understand and use.
Easy to manage due to the rigidity of the model – each phase has specific deliverables and a review process.
Phases are processed and completed one at a time.
Works well for smaller projects where requirements are very well understood.
To see whether Waterfall is right for your project, get in touch with us today on 01227 686898 or fill out a contact form. ExtraDigital often operates using waterfall methodologies and can provide great web solutions that tick all the boxes.