The tools available for social media marketing are constantly evolving. Facebook for example, has just announced that they are trialling a new tool which will enable them to play videos automatically on mobile versions of Facebook.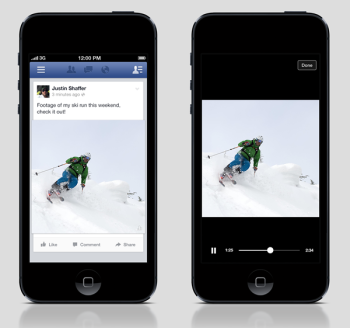 This potential new functionally is similar to Instagram and Vine apps which start playing videos shortly after being viewed in the feeds. Currently, this technology is being trialled by a small group of users in the US but the prospects of Facebook video ads are almost becoming a reality with Facebook hoping to launch these video ads just before Christmas this year.
The way that these videos would work is that video clips uploaded by individuals, verified pages, or band pages would play automatically but without any sound until they are tapped and viewed in full screen mode where they can be viewed in their entirety with sound. Videos uploaded by advertisers or shared by third party apps would only play once they have been tapped, with the sound only being enabled in full screen mode.
Facebook has stated that videos will have to be uploaded straight to Facebook for them to feature on their mobile news feeds, clips from YouTube will not be accepted.
Facebook's Kelly Mayes has stressed that 'Videos initially play silently; if you want you can tap to play with sound in full screen.... Scroll past if you don't want to watch'.
It is thought that Facebook would charge $1m to $2.4m a day for brands to display their 15 second auto play video ads on its site. Seems like alot but considering that Facebook has 1.5 million users visit the site every day and due to the videos playing automatically advertisers won't have to worry about users not viewing the video as they will not have a choice.
It is not apparent whether the new auto-play videos will feature on the desktop version of Facebook, it depends on how successful the mobile version of the auto-play videos are after their launch and the reaction received by Facebook users.
This development is good news for marketers as it means that they have a new way of capturing people's attention but these videos could also end up being a giant distracting nuisance for people scrolling through their news feeds, especially if the videos aren't done right.
The impact of these video ads also will be impacted by how Facebook decides the placement, size of the videos and number of videos appearing in one news feed
Will this addition be useful? Or will it be seen as annoying? We will have to wait and see.