Although SEO services have been around for some time now, many businesses are still not aware of the value of search engine optimisation. Whether you work for or own a business-to-business, business-to-consumer or third sector organisation, SEO is a great source of lead generation online. You may be wondering whether search optimisation is a worthwhile expense for businesses - we say yes as traffic received from the search engines provide the highest ROI across all industries.
Some statistics to back this up:
"83% of UK online shoppers use search engines to research a purchase"
eMarketer, November 2010
"58% of purchase decisions begin on search engines"
GroupM Feburary 2011
"61% of consumers use search engines to help them in their product research decisions leading up to purchase"
Econsultancy, July 2010
Your potential clients/customers/users go to search engines to being the purchasing proccess. These statistics would have only increased since 2010/11 which is an indication of the increasing popularity of internet usage, which shows no sign of slowing down over the next few years. Search engine optimisation is considered 'free traffic' in comparison to Pay per click as links in SERPS (search engine results pages) are free for businesses every time someone clicks the links. The cost per visitor is decreased over time. The graph below shows real life data, with PPC on the left and SEO on the right.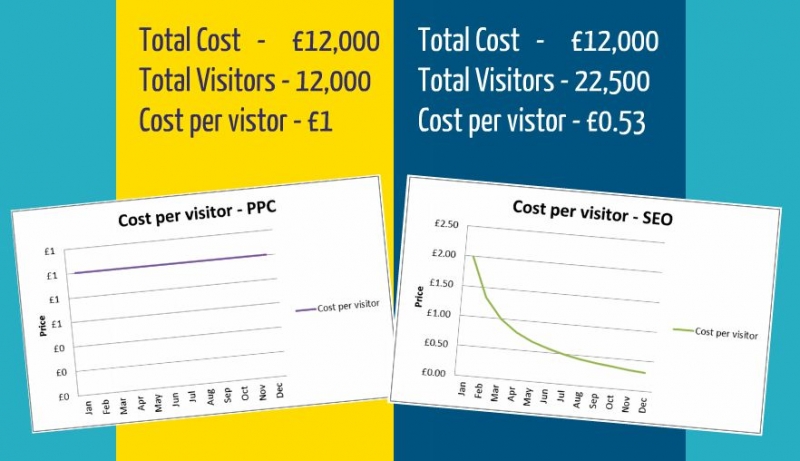 In terms of which search engine searchers go to, Google wins hands down with90% of the UK market recorded in March 2013: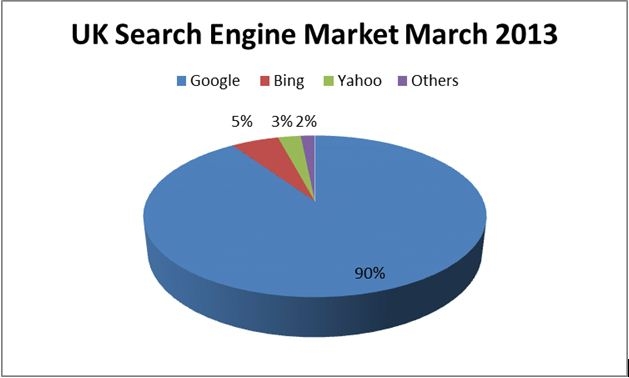 This shows that traditional means of finding businesses such as the yellow pages have now become redundant. If you do not have an online presence, your business will suffer in the long term.
So why invest in SEO services?
The more your site is optimised, the better your rankings in search engines, the more traffic you will generate and the more leads/sales you will get. This traffic can come from optimising for different lengths of keywords. If you have a large budget, core generic search terms will have the highest search volume however broader long tail search terms (more specific to your brand and your unique selling points) are great for conversions as these searchers tend to be further down the sales funnel and more likely to make a purchase.
The main reason to invest in search engine optimisation is that your customers are using search engines to search for your products and services. If you invest in the right company, SEO services will eventually pay for themselves if you generate the right leads.
ExtraDigital provide ISO accredited SEO services to help you increase the amount of quality traffic and leads to your site. For more information or to enquire about our SEO services call +44 (0) 1227 68 68 98 today.