Every good business knows that you need to be easily accessible for your customer. Part of this accessibility is the ease of contacting the business when needed.
Your contact details need to be up to date for this and correct.
Nowadays with websites, social media and online directories a lot of people are finding it harder to manage just a wide spread of contact details. Keeping them up to date is no longer a two second job looking at one location; it's a multitude of login details and URLs to check.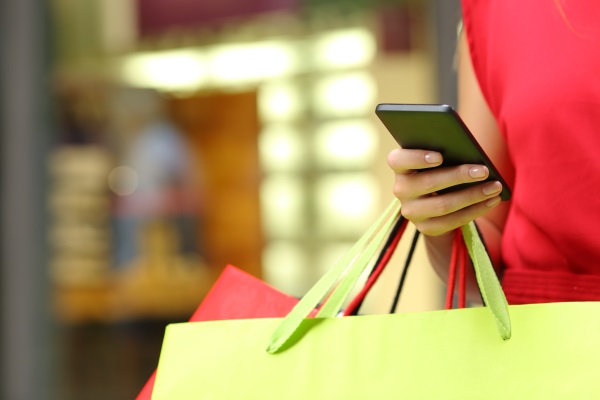 The impact that poor contact information can have on your SEO is more than a lot of people think. Considering that all your social channels and online directories are linked on the world wide web, it becomes very clear to Google when you are out of sync. Out of sync signals lack of effort and care which in turn affects your rankings.
Not to mention the confused clients of yours who are reaching out to you cross channels.
If only there was something that could help!
MOZ Local!
MOZ Local allows you to do just that.
You can sign in and push latest contact information direct to all the major data aggregators and online directories.  This is great news as it means that it saves you time and it spreads your contact details throughout various sources very easily.
With MOZ Local you can get emails reminding you to update the listings, delete any listings and it even makes you aware of any duplications / errors in listings that you may have.
On top of all this it also highlights to you any potential channels that you aren't utilising.  Might even be further avenues for growth to be found here for you.
Naturally MOZ Local offers full reporting of your listing status and allows you to view all rankings, reviews, traffic data and the performance of your listings over time. Great for assisting with your marketing objectives.
The Practicalities
The MOZ Local service itself isn't cheap but when you look at the time you would spend updating these systems yourself then you may find that you save quite a bit. At the moment it is priced a $84 a year per location for businesses managing up to 99 locations a year.
You can get an Enterprise level for businesses managing more than 100 locations for $69 a year per location which makes it far better for those companies with multiple locations.
However if you want access to the reporting side of the system then you have to pay an additional $120 or $99 with the Enterprise level of business management.
Are There Alternatives?
Alternative sources to use other than MOZ Local do exsist. One example is Yext. www.yext.com
Yext does everything that MOZ Local does with prices available on request. However you can white label this service with your own company branding very easily.
Sources in the online marketing community have stated that there have been rumours of Yext removing all changes made whilst with them if you cancel their services. No concrete evidence of this has yet to emerge BUT MOZ Local state very clearly on their website that if you cancel your service with them then your listings remain and are not reverted to their previous state.
On the other side of the Yext / MOZ Local debate there are sources in the online marketing community who believe that Yext is faster at indexing your websites in the listings than MOZ Local at the moment.
What Should You Do?
Here at ExtraDigital we don't think that one size fits all, your use of these services should depend on what benefits your company can gain from using them.
However, we do believe that you should make use of the free trials offered by these services as they do provide you with a useful overview of whether your company is actually ensuring that customers can contact you.
Below you can see both the MOZ Local (on the left) and Yext (on the right) results for the popular John Lewis department store.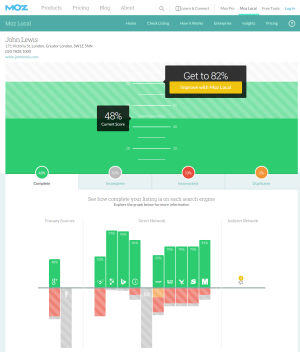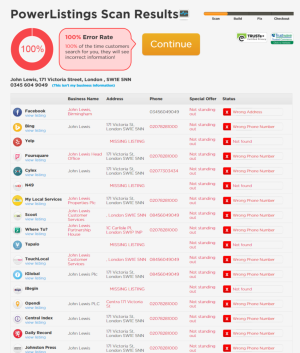 Get  a free review for yourself and see whether your contact details are up to date.