Google is rolling out a new version AdWords or as they like to call it a new AdWords experience. This is a simple checklist to make sure you get the most from the new AdWords systems based on Google's own best practice guidelines.
Which Experience?
Not sure if you're on the new version of AdWords? Simply sign into your account and if you see the old-style settings (gear icon) then you're in the old AdWords. The new experience shows three dots instead of the gear and the interface does look a bit different.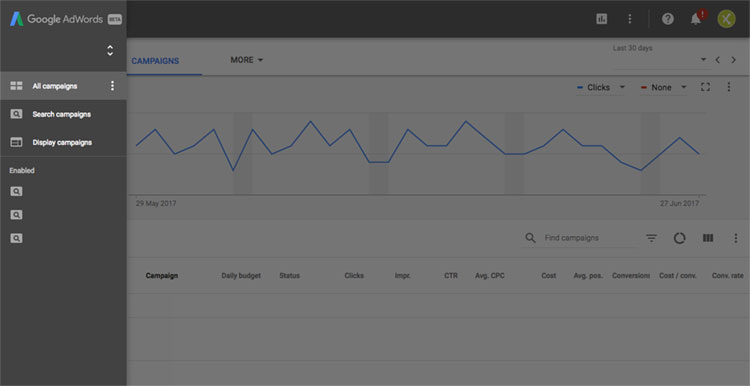 To switch between experiences simply go to settings and change which version you want to use.
Managing PPC Campaigns
How you manage your PPC campaigns isn't going to change so you can still do this the same way. What you can do is find useful insights quickly using several predefined reports to speed up checking and performance analysis.
In addition, the API and Editor haven't changed so you can still use these the same way too.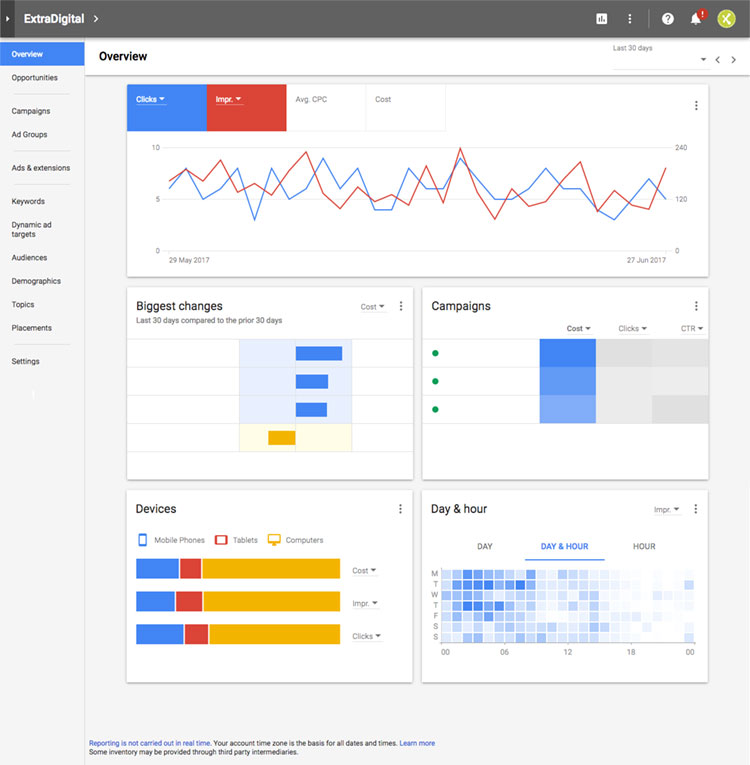 What's new
Better Insights
You can customise and improve the overview to give you better insights into your campaigns. This page uses a selection of cards featuring insights and performance highlights. Google plans to make more cards available in the future to give us, even more, insights into our PPC campaigns.
In addition, you can add reports to your dashboards and easily share these with collaborators. Plus, change history has been updated to help with diagnosing and fixing issues.
Showcase Shopping Ads
These ads let you group together related products and present them together to showcase your brand and are only available in the new AdWords experience or AdWords API.
The ads appear on Google search and include either a suitable image or product image to match the search term. When the ad is clicked it expands revealing the chosen products. You can advertise a few products right up to a whole category.
You can read more about Showcase Shopping Ads here
Evaluate Text Ads and Ad Extensions
Now you can review both your text ad copy and related ad extensions together to make sure they make sense. This not only saves you time but allows you to be more creative and less generic in your ad creation.
Benefits
The main benefit is to make is easier and quicker to manage campaigns. The new interface is designed to be more intuitive giving you suggestions to better achieve your goals. Also, it should be quicker to review and adjust data like bids.
A word of caution, as helpful as Google's new interface is never forget that Google's goal here is to get you to spend money on AdWords. While often that means you get tools and systems to maximise your campaigns occasionally the emphasis can be on spending more not spending wisely.
Use the new AdWords experience to create winning campaigns that maximise the budget and you're sure to get the most from this new interface.
---
Need Help with PPC?
Struggling to get the best from your PPC campaigns, talk to us. With expert, Google qualified PPC managers we can get your campaigns in shape generating leads and sales. Our PPC management is based on campaign size and clicks budget* starting from just £200 per month.
*Recommended click budget client spend starting from £1k per month.
Call now or complete our contact form below for more details.
---