"Conversion Rate is King"
Maybe! We can debate whether conversion rate is the most important factor, but it is certainly very significant measurement or KPI for paid search optimisation.
What is the Conversion rate?
The conversion rate is the percentage of clicks from paid advertising that convert to a contact form enquiry for B2B or a sale for eCommerce. This depends mostly on the layout and usability of the website. Other factors include the product offering (price and quality) and the quality of the visitors. A good quality of visitor is one that is right for the product or service offering.
How to get the best conversion rate for
PPC

advertising

To gain a high conversion rate the PPC account manager will setup the account very carefully to ensure only very well targeted visitors land on the best landing pages possible. This is optimising the account based on a given website in terms of content and layout. Provided the website is reasonably well designed, very careful visitor segmentation can produce high conversion rates.

But the very best conversion rates happen when the PPC manager can influence the design, the wireframe layout and the content of each webpage, but specifically the landing pages. This can produce very significant improvements in CTR.
Some example Conversion rate figues
Word Steam (March 2014) produced a graph showing variations in search conversion rates for accounts they had access to: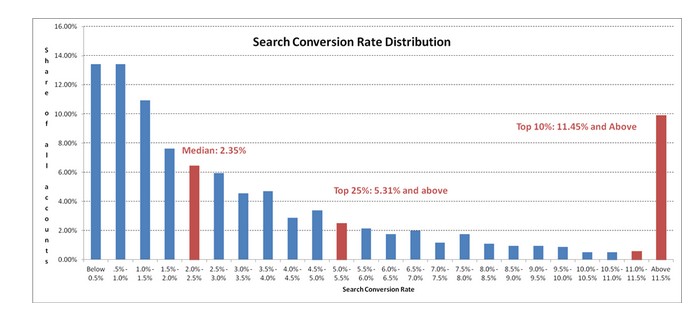 Data above from Wordstream blog showing huge range of conversion rates from under 0.5% to over 11% and an average of around 2.4%. This average fits well with 'industry wisdom' of a good conversion rate between 2% and 5%.
But the article also correctly highlights the shape of this graph. Some data is worse that 2% but some is very, very significantly higher, some by about four times the average conversion rate. This is where the real opportunity lies.
The data in the table below is from WordStream blog on 17th March 2014.
All Accounts
eCommerce
B2B
Legal
Finance
Median Conversion Rate
2.85%

1.84

%

2.23

%

2.23

%

5.01

%
Top 25% Conversion Rate
5.31%

3.71

%

4.31

%

4.31

%

11.19

%
It shows the conversion rates averaged over many accounts divided by industry sector. The first thing to note is the variation by industry sector. ExtraDigital think much of this is due to more competition within the finance sector requiring more investment in PPC optimisation.
The data above does not consider access to landing page design. This is considered below where a very significant uplift in conversion rate is seen when the PPC account manager has a strong influence in the page layout. The data below is averaged from B2B accounts managed by ExtraDigital.
B2B
Average Conversion Rate over all

B2B

accounts
5.2%
Average Conversion Rate over

B2B

accounts
where we have designed the layout or created the content
6.8%
Average Conversion Rate over

B2B

accounts
where we have designed the layout and created the content
12.5%
A similar trend in seen with eCommerce conversion rates. This also shows very much higher conversion rates when the website layout and content take into account PPC optimisation.
PPC Campaign Optimisation
If you are looking for help with your PPC campaigns please contact us.
Or request a free PPC review of your existiing PPC campaigns.